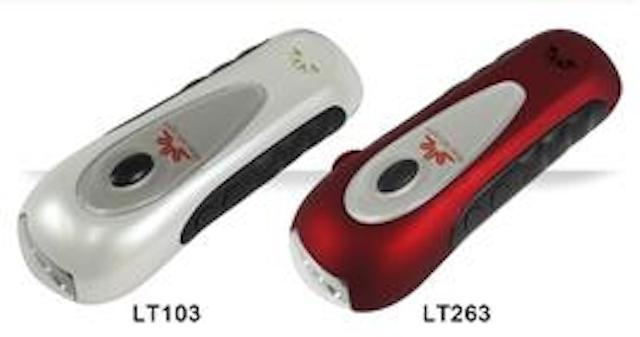 Date Announced: 27 Aug 2010
Taipei, Taiwan – GlacialTech Inc. today announces its latest innovations in LED Torch technology. The two new devices – Dynamo 2 LED Torch LT103 & PalmSiren Dynamo 3 LT263 – are geared for mountain climbing, home maintenance, camping, as well as emergency situations where a bright light can mean the difference between success and failure. The GlacialLight brand once again demonstrates its commitment to ensuring a greener future for all with rechargeable power sources, and low power consumption devices aligned towards durability and convenience.
Dynamo 2 LED Torch LT103 – a compact and durable device ideal for power outages, emergencies, camping and more. Available in the sleek pearl-white color, GlicialLight's LT103 features a high-quality lithium-ion battery that can be easily recharged with a mini-USB cable. In the past, there was always a problem to worry about carrying a spare battery. Now with the LT103, you can be assured to be able to generate power everywhere at any time without power sources.
PalmSiren Dynamo 3 LT263 – a 3-in-1 combo device incorporating LED torch, radio turner and backup mobile charger functions. Strip with antenna, the LT263 also features a high-quality lithium-ion battery and offers 3 super bright LED bulbs. Designed with ease-of-use, the power switch, radio switch, volume adjust and radio researching buttons are placed right at your fingertips. Charging the torch and mobile phone can be as easy as connecting the USB connector to the laptop. The LT263 PalmSiren Dynamo 3 is a smart-looking, dynamo-powered torch using the latest LED technology to create a very strong and highly focused beam of light.
Features for Dynamo 2 LED Torch LT103 & PalmSiren Dynamo 3 LT263:
*Rechargeable lithium-ion battery / LIR2465, 3.6V
*Under normal wear and tear, the lithium-ion battery is allowed to recharge 500 times.
*After 2 minutes of charging, the device will operate for 2~8 minutes.
*Portable USB charger
*Mini USB power within USB cable
*Radio functions
Applications for Dynamo 2 LED Torch LT103 & PalmSiren Dynamo 3 LT263:
*Mountain climbing
*Camping
*Housework maintenance
*Power failure due to emergencies such as earthquakes, hurricanes, storms and etc.
About GlacialLight
GlacialTech Inc. is a diversified provider of LED lighting, cooling solutions, power supply's, and PC enclosure solutions for consumer and industrial applications. Having established strong relationships with thermal, SMPS and mechanism technology leaders worldwide, GlacialTech leverages world-class engineering, efficient manufacturing and highest-quality materials to provide its products with an optimal balance of RoHS compliance, performance and value.
Contact
GlacialTech Inc. Phone +886 2 2244-1227 Fax +886 2 2244-1228 Address: 9 Fl., No. 352, Sec. 2, Jung Shan Rd., Jung He City, Taipei, Taiwan, 235, R.O.C. or Jean-Pierre Skalamera info@globalpr.com.tw Tel: +886-2-2897-3237
E-mail:sales@glacialtech.com
Web Site:www.GlacialTech.com