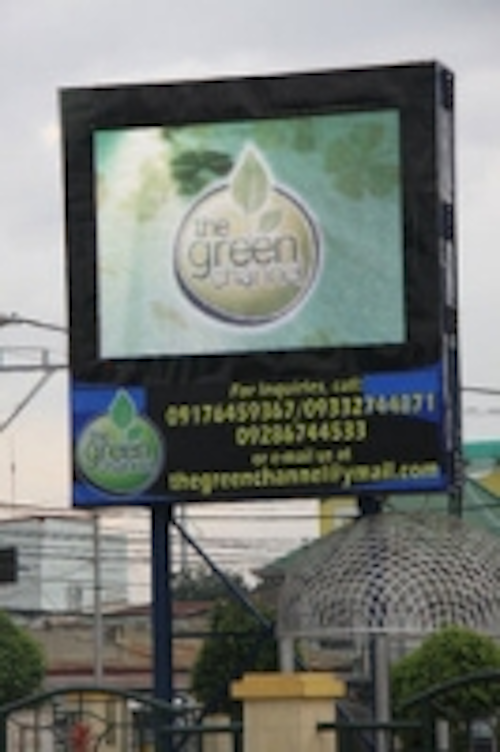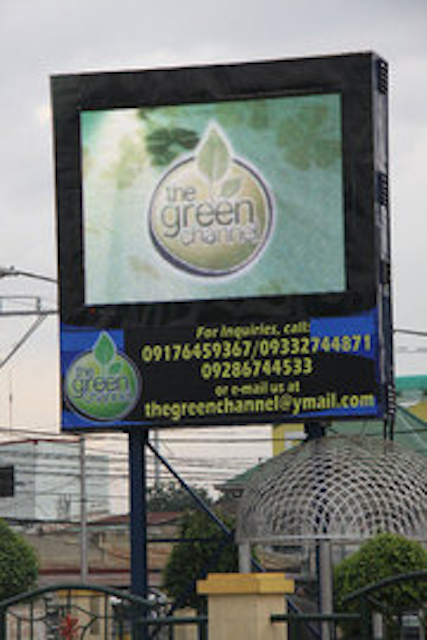 Date Announced: 12 Aug 2010
Carmona, August 10, 2010 – In an effort to educate and promote its citizens about the importance of environmental protection, the municipality of Carmona, Cavite selected world-leading LED display solutions provider Lighthouse Technologies Ltd. (Lighthouse) to install its new "Green Channel" LED display.
The new display, comprising 16 R16i/o 16mm LED panels in a 4 x 4 (4.06m (W) x 3.05m (H)) configuration, is located at the inbound tollgate of Cavite Province, a high traffic area for motorists and pedestrians alike.
Content provider Icon Advertising manages the screen content, which is displayed from 6:00am to 10:00pm every day. In addition to dynamic advertising, the Green Channel will also deliver 15-second "fillers" that provide useful tips on how everyone can do their share to protect the environment. The screen itself is eco-friendly, as it has eliminated the need for tarpaulins, posters, and other physical advertising materials.
Lighthouse worked closely with local partner Avolution to complete the installation. Avolution chose the R16i/o 16mm LED panel for its 5000nits brightness and 2000:1 contrast ratio, which ensures excellent visibility in the Philippines bright, sunny weather. Its seamless mechanical system and easy assembly and maintenance made installation simple while also reducing maintenance downtime.
"Working with Lighthouse to install Carmona's new Green Channel LED screen has been a pleasure," said Lani Kimber Campos, general manager, Avolution. "Its close support and expertise on this project ensured installation was quick and simple, and this experience has given us great confidence to continue bringing Lighthouse LED display solutions to more applications in the Philippines."
"Lighthouse is very happy with the great support we have received since entering the Philippines market, and we look to continue expanding our presence and close relationships here," said Peter Chan, general manager of Lighthouse Technologies. "We are deeply grateful to the municipality of Carmona for giving us this opportunity, as Lighthouse has always been a great supporter of business and government efforts to promote environmental awareness."
This is another Lighthouse project in the Philippines, a region that has shown great potential for the LED display market. Lighthouse's strong commitment to the area is part of a larger regional effort to aggressively expand its presence throughout the Asia-Pacific region.
~END~
Lighthouse Technologies Limited is a global leader in LED display technology that develops, manufactures, and markets LED video display solutions for multiple indoor & outdoor applications, media and entertainment events, and sports arenas across the globe. With numerous technological breakthroughs to its name, Lighthouse has established itself as a multi award-winning leader in the LED display industry that holds itself to the highest standards of quality.
Founded in 1998 Lighthouse has a strong global presence with regional offices in Europe, North and South America, the Asia Pacific and China. Employing the most advanced technology, the highest quality manufacturing facilities, and world-class, round-the-clock technical support, Lighthouse satisfies customers on every major continent, captivating the imagination of millions. For more information about Lighthouse, please visit

# # #


Contact
Lighthouse Technologies Limited Anita Leung/Renee Chu Tel: (852) 2192 1688 Fax: (852) 2423 1092 E-mail: info@lighthouse-tech.com Facebook : http://www.facebook.com/LighthouseLED Twitter : http://twitter.com/LighthouseLED

E-mail:info@lighthouse-tech.com

Web Site:www.lighthouse-tech.com