The Student Lighting Designer for 2010 is....
Aug 2nd, 2010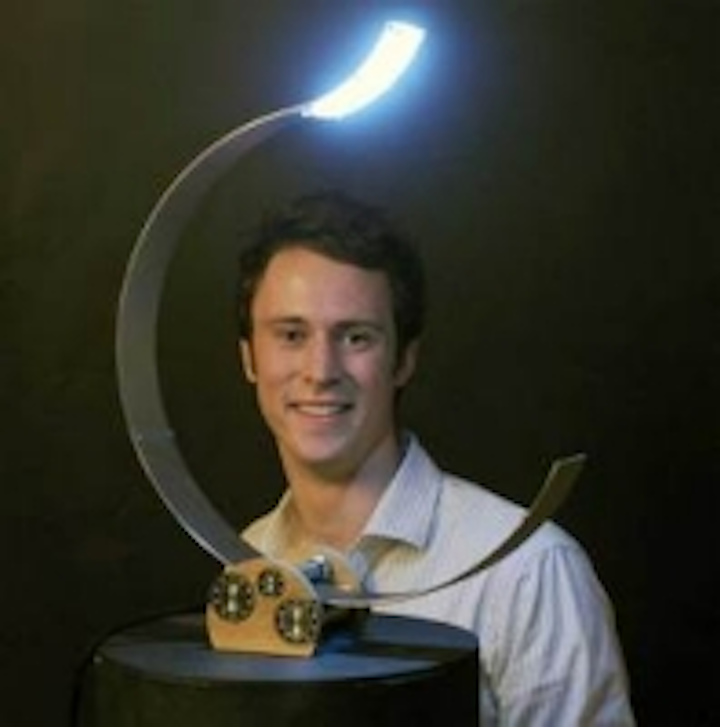 Date Announced: 02 Aug 2010
This competition allows students to gain valuable knowledge about the lighting industry, whilst using their creative skills to develop new lighting products. Sponsored by a number of big industry names: Philips, Spearmark International, Dar Lighting Ltd, Energy Saving Trust, OSRAM, ACID and The Lighting Association.
2010 saw the strongest entries for many years in the Lighting Association Student Design Awards which were held in Stratford upon Avon on July 14th.
"The judges were impressed by the quality of work in transforming the original design concepts to working prototypes" said Peter Hunt Lighting Association's Chief Executive. "The high level of interest in the student designs from lighting companies at the exhibition of finalists was very encouraging and it's exactly what this competition is for."
13 finalists were chosen and working prototypes were presented to a panel of esteemed Judges.
Student Lighting Designer is John Etherington (Nottingham Trent University)with the LED table design 'ARC'.
Children's Student Lighting Designer went to Lise Carrillo & Marie Bachoc (Central Saint Martins College of Art & Design) with the table design 'Buddylight'.
Second place was Joseph Roberts(Aston University)with the LED table design 'Sputnik'
Third place went to Chris Taylor (Royal College of Art) with the table design 'Stem Light'
Table
The Philips Award for best light source went to Charles Jarrett(Coventry University)with the ceiling design Pouring Light and
Isabel Heubl (University College Falmouth)with the Children's design called Rocky
Best Flatwork was awarded to Catherine Bailey (Nottingham Trent University) for Mr & Mrs
The awards were presented by Rune Marki from OSRAM and Gyles Brandreth and the full list of finalists and their designs can be viewed at
www.lightingassociation.com/sdla.php
Contact
Jo Jackson, Marketing Communications Manager. joj@lightingassociation.com
E-mail:enquiries@lightingassociation.com
Web Site:www.lightingassociation.com