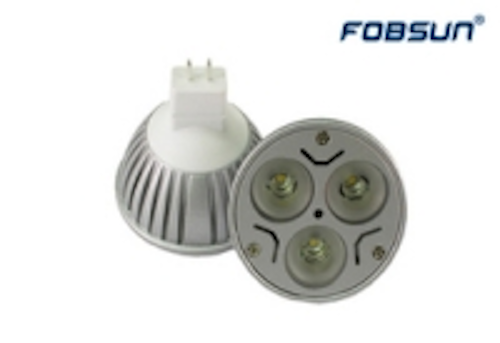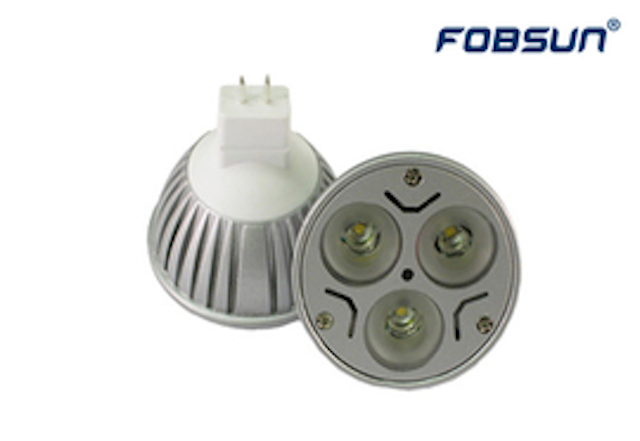 Date Announced: 18 Aug 2010
FOBSUN ELECTRONICS LIMILTED releases their dimmable Cree 6W MR16 bulb recently. As one of the biggest Chinese LED Lighting Manufacturers, Suppliers and Exporters, FOBSUN always insists on supplying LED Lighting products with best design and quality at the lowest price to the market, now let us see what the unique selling proposition of FOBSUN New MR16 bulbs is first:
With ultra brighter CREE LED as light source, the MR16 bulbs give off reliable white light and are the best to be used for background or effect lighting, the MR16 bulbs are dimmable and compatible with triac dimmers. (Low Voltage Dimmers); They only consume a fraction of the power used by the standard lamps to give the same light output at 3*2W, so they are perfect for application in areas where you would like to leave lamps on for long periods but perhaps do not need bright lighting. They are compact, green and high efficient lighting fixtures. The patented thermal control technology, and special aluminum alloy housing substantially achieve good thermal property.
Base type: MR16
Input voltage: 12VAC/DC, 85-260VAC
Full range of colors: cool white, warm white
Light source: 3*2W Cree high power LEDs
Luminous flux: 300-380 lumens
Beam angle: 50/80/120 degree
Body temperature: below 53 degree Celsius
LED working temperature: below 62 degree Celsius
Temperature: -20~40 degree Celsius
Brightness degradation: 3%-5% within 1kh
Lifespan: 50,000 hours
No UV or IR radiation
About FOBSUN
FOBSUN ELECTRONICS LIMILTED, a high-tech enterprise, founded in 1998, is professionally engaged in researching, developing and manufacturing energy saving products, and mainly specializes in designing, producing, distributing and licensing lighting emitting diode (LED) controllable digital decoration and illumination lighting systems, In 2004, FOBSUN established a factory as a branch of LED lighting devices in mainland.
FOBSUN's main products: LED T5 | T8 Tube Lights, all kinds of LED Downlights (Round, Square, Linear, ELV Dimmable), LED Strips (Flexible, Rigid), LED Spotlights (MR10, GU10, E27, E14, E26, G24), LED Wall Washers(Round, Square, Linear, IP20 or IP65), LED Rope Lights, LED Neon Rope Lights, LED Strings, Drivers, RGB Controllers, Dimmers and DMX Decoders etc.
Our products have been widely applied for commercial and residential illumination, such as office, school, hotel, restaurant, library, display, decoration, industry & hospital and so on. Utilizing of high performance optical system, excellent heat sink and dissipation system ensures their best quality, and they feature the property of energy saving, long lifetime, and environment-friendly without any harmful radiation and glaring effects.
Contact
Phone: +86 755 3366 2660 Fax: +86 755 3366 2986
E-mail:sales@fobsun.com
Web Site:www.fobsun.com