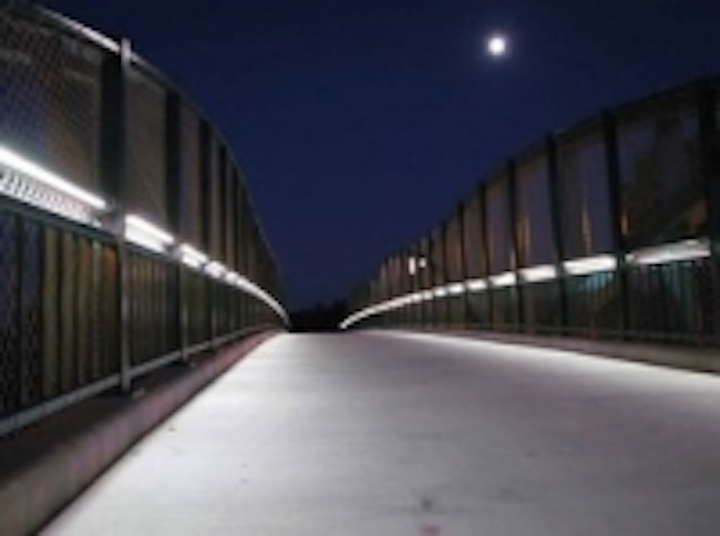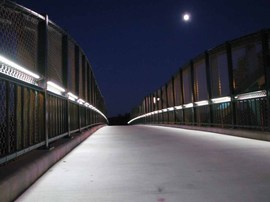 Date Announced: 09 Mar 2010
Chicago, IL – March 9, 2010 – Bridges do more than provide a passage
over barriers. They connect; they join -- both symbolically as well as physically. A growing Midwestern city called Fitchburg, located in Wisconsin, needed such a connection. Fitchburg city officials wanted a gateway structure to their city, a means to connect local and regional trails and paths, and a way to solve safety and congestion issues with its major bicycle and pedestrian trail known as the Capital City State Trail.
The immediate requirement to separate the Capital City State Trail from the congested Fish Hatchery Road was the main physical objective of this new construction project. The city, along with members from the Wisconsin Department of Natural Resources, Dane County Parks Department, Dane County Highway Department, and Wisconsin Department of Transportation brought in AECOM, a Fortune 500 company and a global provider of professional technical services.
While the city knew they wanted lighting on their new bridge, AECOM reviewed the project needs and uses and proposed a special LED lighting system. AECOM selected iLight's Plexineon White 1X Series to use along the pedestrian railing to light the concrete deck without using overhead poles.
In addition to the unique Plexineon technology, several pedestal lights, that were the inspiration of the city, were incorporated into the upper portion of the substructure units. Under deck lighting was placed at the two abutment units. The greatest challenge for James Lucht, PE and AECOM's Wisconsin Bridge Group Leader, Midwest Region, and his team was the actual fitting of the narrow profiled Plexineon lighting and running power cables into the pedestrian railing. But AECOM met this challenge with style.
AECOM suggested incorporating a third horizontal railing member with a cut-off along with an underside surface to hold the fixture, and it worked perfectly. Control boxes and conduit embedded in several concrete members solved the power issue.
The city of Fitchburg now can enjoy a well illuminated bridge that blends both useful and decorative lighting for its many users. Lucht, a resident and user of Fitchburg's Capital City State Trail states, "The final outcome of this project far exceeds the normal pedestrian structure and sends a statement that bridges are unique." The connection between points, both physical and symbolic, is now complete.
Designer: AECOM
Photograph: Courtesy of AECOM
About iLight Technologies, Inc.
iLight Technologies, Inc. is a leader in innovative LED illumination solutions that transform, excite, and energize corporate identities and architectural environments worldwide. iLight's award-winning products blend the benefits of LEDs with patented application systems that create lighting products that have high brightness with a smooth even glow. The company currently has over seventy-five patents issued and pending, including LED lighting systems beyond linear lighting. iLight Technologies was founded in 2000, is headquartered in Chicago, IL.
Contact
Media Contact Elizabeth Randgaard Director of Marketing iLight Technologies, Inc. T: 312.876.8630 erandgaard@ilight-tech.com ###
E-mail:erandgaard@ilight-tech.com
Web Site:www.ilight-tech.com