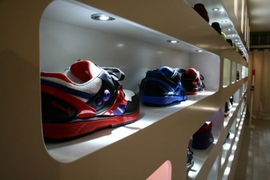 Date Announced: 11 Mar 2010
Ulverston, UK -- Marl is to distribute the Lumotech Lumoluce range of LED architectural lighting products for commercial and domestic applications. Manufactured in the Netherlands, Lumoluce LED lighting solutions are attracting a fast-growing following due to their remarkable colour consistency and exceptional energy efficiency.
The Lumoluce range is characterised by outstanding performance and quality at a competitive price point, and is fully assembled and manufactured at Heerhugowaard in the Netherlands utilising high quality LED light sources and LEDs. Unique features of the range include sub-binning, where each colour supplied is tested and hand-sorted into a further nine sub-bins to provide an exact colour match across each individual LED supplied to a customer. Lumoluce also designs and manufactures its own drivers to maximise the performance and efficiency of its LED lights. As a result, it achieves power factors of better than 0.9 and very low harmonics. Lumoluce LEDs are widely used in major airports, supermarkets for food illumination as well as restaurants and offices throughout Europe. Its focus on delivering premium performance and quality at competitive pricing is leading to year on year growth in annual turnover of over 50% for Lumoluce.
Adrian Rawlinson, Managing Director of Marl International, commented, "Lumoluce shares Marl's culture of achieving high levels of quality and performance by keeping control of the design, assembly and manufacturing processes. We believe that there will be strong market demand for this product range from customers who appreciate a consistent and high quality product at an affordable price."
Peter Snoeck, Sales Director of Lumoluce, added, "Marl has excellent relationships with our key target customers in the UK, and helps these customers make the most of our very special product characteristics. The fact that they have their own manufacturing operation too helps them appreciate how our products are set apart."
Marl will offer the full Lumoluce series, which is a modular system based on aluminium construction with a 2.3W LED module, driver and connectors. These assemblies deliver the same light output as a 25W – 35W halogen bulb but use 90% less power – and even save 35% of energy costs of standard energy saving lamps. The Lumoluce range includes an extensive selection of fittings in different shapes and sizes, with different configurations of LED lamps, to meet every conceivable lighting requirement and application.
About Lumoluce
Lumoluce was founded in 2006 by Lumotech as a specialist subsidiary to exploit the growing demand for energy efficient light sources such as LED lighting. Lumoluce designs and manufactures high quality LED fixtures, LED strips, LED boards, and LED drivers as well as plug-in replacements for less efficient lighting technologies. The success of Lumoluce is based on a strong technical foundation: its immense knowhow of the electronics and other related techniques required to create effective, efficient and long-lasting LED lighting solutions. Lumoluce products are therefore conceived, created and manufactured under one roof at its Heerhugowaard headquarters in the Netherlands, from initial sketches to finished end product. Lumotech is a manufacturer of semi-finished products and was founded in 1978. For more information, please visit: www.leds.co.uk/lighting/products/lumoluce
About Marl
Marl has specialised in the design and manufacture of visible LED indication and illumination components and systems for over 35 years, to customers in the electronic, power generation, defence and telecommunications industries. Its highly trained and experienced team of over 100 design and manufacturing specialists operate from a dedicated technology park in Ulverston, England and stand ready to offer its customers a solution to any requirement. They are able to offer a range of standard products, customised to suit individual projects, or even design a specific component from scratch. Marl is a quality company. It is registered to BS EN ISO 9001:2008 standard and fully RoHS and WEEE compliant.
[Photo caption: The Lumoluce range of LEDs are now available from Marl for lighting projects in commercial and domestic applications including hotels, restaurants, offices and retail outlets]
Contact
Marl International Limited, Marl Business Park, Ulverston, Cumbria, LA12 9BN, UK. Tel: +44 (0)1229 582430 Fax: +44 (0)1229 585155 Press Contact: Peter van der Sluijs Neesham Public Relations Tel: +44 (0) 1296 628180 Email: peterv@neesham.co.uk
E-mail:marketing@marl.co.uk
Web Site:www.leds.co.uk