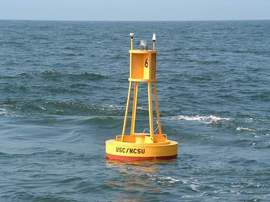 Date Announced: 23 Mar 2010
VICTORIA, BC, CANADA and PORVOO, FINLAND -– Marine lighting pioneers Carmanah Technologies Corporation and Sabik Oy announced today that the two organizations have joined forces to deliver a complete range of marine lighting solutions under the Carmanah/Sabik brand.
Under the terms of the agreement, both Carmanah and Sabik will expand their marine product families to include the other company's marine lighting solutions and will leverage each others' sales and distribution channels to deliver a complete range of marine lights to their respective global customer bases.
"Sabik is a leader in optical technology and communications systems, and we are delighted to partner with them to deliver total marine lighting solutions to our customers," said Ted Lattimore, Carmanah CEO. "Whether a customer is looking for a one nautical mile self-contained solar LED lantern or an 18 nautical mile range light, they will only need to reach out to a single point of contact. Anything that makes the process easier for the customer just makes good business sense," said Lattimore.
Kalevi Sarvikivi, Managing Director for Sabik said, "Carmanah's understanding of energy management is evident in the performance of their short-range solar LED marine lights, and we believe the Carmanah lights will be an excellent complement to Sabik's marine product family." Sarvikivi added that he expects future joint product development that will combine the best of Carmanah and Sabik's technology to bring new products to the marine lighting market .
Carmanah and Sabik will be exhibiting March 22-27 at IALA 2010 in Capetown, South Africa.
About Carmanah Technologies Corporation
As one of the most trusted names in solar technology, Carmanah has earned a reputation for delivering strong and effective products for industrial applications worldwide. Industry proven to perform reliably in some of the world's harshest environments, Carmanah solar LED lights and solar power systems provide a durable, dependable and cost effective energy alternative. Carmanah is a publicly traded company, with common shares listed on the Toronto Stock Exchange under the symbol "CMH". For more information, visit carmanah.com.
About Sabik Oy
Sabik is a Finnish company with sister companies in Germany and Denmark. Sabik is in the business of enhancing safety for traffic at sea, on the road and on the railways.
Sabik specializes in optical engineering, traffic telematic solutions and their components, and has accumulated knowledge in optics and microprocessor technology as well as in embedded and system level software. Sabik offers its clients the latest technical solutions and the technical support needed including installation and maintenance services.
Sabik is a certified ISO 9001:2008 Quality Assurance System as well as a IS0 14001:2004 Environmental Management system, and has been a member in IALA since 1992, currently representing the European industry within the IALA Industrial Members Committee. For more information about Sabik, visit www.sabik.com.
Photos: Carmanah Marine lighting photos available at http://www.flickr.com/photos/carmanahsolar/sets/72157612797527174/
Contact
Media Contact: David Davies direct: 250.382.4332
E-mail:ddavies@carmanah.com
Web Site:www.carmanah.com