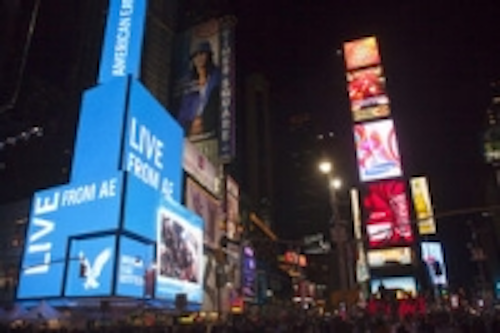 Date Announced: 11 Mar 2010
Visualization specialist Barco is proud to announce that American Eagle Outfitters (AEO) selected a variety of Barco LED and LCD products for their new flagship store in New York City's Times Square. American Eagle Outfitters leveraged the store's distinctive exterior architecture to create a dominant visual landmark in this most iconic of urban settings.
At the onset of the project, AEO turned to the Barnycz Group®, a Baltimore-based design firm that specializes in the creation of unforgettable, large scale interactive content environments. AEO selected the Barnycz Group because of the technical knowledge they could provide for a project of this scale.
"In Times Square, what we wanted to create for American Eagle Outfitters was a 'canvas' that brought their brand and lifestyle to front and center," remarked Danny Barnycz, the company's founder and president. "We created a multi-tiered interactive high definition digital canvas that allows the retailer to dynamically communicate its brands and promote its product offerings."
Concepts for the exterior display took the form of a stunning 12-faceted assemblage of LED panels, almost 15,000 square feet in size, including a soaring 25-story LED tower. When AEO and the Barnycz Group were ready to implement their vision — they selected Barco.
To create the display, Barco engineers wrapped the building's exterior façade with 1469 Barco TF-20 LED panels, on 12 distinct geometric surfaces — for a total pixel count nearing 3.5 million. These weather-resistant panels are designed for rugged outdoor environments, with the ability to deliver 281 trillion colors with stunning clarity. The ceiling of the building's outdoor foyer is comprised of 1665 Barco OLite 612 modules, specially designed for optimum viewing at very close distances. To complete the visualization package, immediately inside the store is a bank of 21 Barco NSL-46 LCD monitors, arranged in a 7x3 array. Purpose-built for a near-seamless presentation, these monitors will allow content to be displayed in its native resolution, without any loss of image quality.
Content for the multiple LED and LCD displays originates through dual Apple Macintosh computers, and includes a mix of photos, video, graphics, animation, and text. To process the array of multi-format video, dual Barco DX-700 LED digitizers are used for optimum visual quality.
The AEO building's unusual architecture created interesting challenges for Barco's on-site installation team. One corner of the building sits at a 78 degree angle. A unique aspect of Barco LEDs is their creative modularity. In particular, the OLite module's small footprint (measuring 4.4" square) was specifically designed for applications requiring unusual shapes and angles, and this made it ideal for the AEO project.
With its industry-leading image quality and all-weather robustness, the TF-20 tiles set the standard for outdoor displays. No other LED product provides the simultaneous combination of high brightness and high contrast, enabling images to look as good in direct sunlight as they do at night. The TF-20 also sets new standards for energy efficiency, and with almost 15,000 square feet of LEDs to light up on a 24/7 basis, the product's efficiency represents an important cost savings factor for American Eagle Outfitters.
Danny Barnycz attributes a large portion of the project's successful implementation to the Barco products themselves and the installation team. "It's our belief that when you stand anywhere in Times Square, or even several blocks away, your eyes will be drawn irresistibly to the American Eagle Outfitters display," said Barnycz. "Barco is deeply rooted in the live events business, and that instills a mind-set for doing things right and on time. We prefer to partner with Barco because they share our passion for perfection and our sense of urgency in making deadlines."
"To make something like this happen in Times Square truly motivates our entire team — from R&D, Sales, and all the way through Operations and Service," said Dave Scott, President of Barco, NA. "Because we continue to strive for innovation, flexibility and creativity, the American Eagle Outfitters Times Square display represents a new achievement in technical and artistic outdoor LED displays."
About The Barnycz Group
The Barnycz Group® designs spectacular, large-scale interactive dynamic environments for the world's biggest retail brands. From D.C. to Dubai. New York to Vegas, we create unforgettable experiences on a massive scale. Led by Chief Creatologist, Danny Barnycz, The Barnycz Group® has orchestrated some of the world's most attention-grabbing projects, including the Dubai Mall, the Mall of the Emirates, spectaculars on New York's Times Square and the Crown Fountain at Chicago's Millennium Park. Our clients come to us again and again because they trust us with their billion dollar brands and buildings.
About Barco
Barco, a global technology company, designs and develops visualization products for a variety of selected professional markets. Barco has its own facilities for Sales & Marketing, Customer Support, R&D and Manufacturing in Europe, North America and Asia Pacific. Barco (NYSE Euronext Brussels: BAR) is active in more than 90 countries with about 3100 employees worldwide. Barco posted sales of 638 million euro in 2009.
Contact
916-859-2500
Web Site:www.barco.com