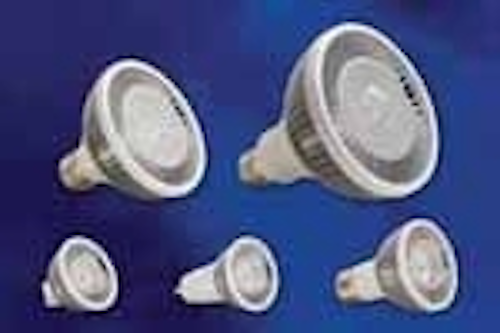 Date Announced: 17 Mar 2010
BULBRITE to Introduce TURBO LEDs at Lightfair International 2010
Las Vegas---Offering energy efficiency at a higher level of performance for lighting designers and specifiers, BULBRITE will be introducing a New Generation of TURBO LEDs featuring a state-of-the-art, revolutionary design, to its extensive line of LED light sources at Lightfair International 2010.
BULBRITE, a leading supplier of innovative, energy-efficient light source solutions and the premier educational resource for lamping technology, will be exhibiting its line at Booth #1159, in the Las Vegas Convention Center from May 12th through May 14th.
This new generation of LEDs features innovative heat sink technology that eliminates the need for large, aluminum heat sinks and clunky housings. BULBRITE TURBO LEDs include an innovative cooling system featuring pure anodized aluminum thermal fins that are 0.0236 inches thick and riveted to the body without glue.
Highlighted with a revolutionary design for high performance, TURBO LEDs are engineered with a low junction temperature of 65 degrees C for optimal thermal conductivity to increase LED life to 25,000 hours. With an IP 65-rating, it is totally protected against dust and low-pressure water from all directions.
TURBO LEDs are available in several lightweight, diminutive sizes and styles: MR16 12V; MR16 GU10 120V; PAR20; PAR30 and PAR38. These unique LEDs are also energy efficient and environmentally friendly without using mercury or lead.
About BULBRITE
BULBRITE is a leading manufacturer and supplier of innovative, energy-efficient light source solutions. Founded nearly 40 years ago, BULBRITE is a family owned business renowned for its commitment to innovation, education and new technology. The company has introduced many innovation and design award-winning products, including its exclusive KX-2000®, Halogen R111 GU10, LED MR16 and many more. BULBRITE offers an extensive line of light bulbs and lamping options including LEDs, HID, Compact Fluorescents, Fluorescents, Halogens, Krypton/Xenon, Incandescents, and a broad range of specialty lamps.
Top-notch service is achieved with an ALA-certified customer service, sales and operations teams and a national sales force of first-class professionals. Ninety-nine percent of the company's orders are processed and shipped Same Day using a state-of-the-art order entry, warehousing and distribution system.
To help lighting professionals better understand the latest technology and developments, BULBRITE hosts a broad range of webinars, product training and seminars on Light Bulbs, LEDS and Sustainable Lamping Options.
BULBRITE is a proud supporting Committee Member of the American Lighting Association, Silver Sustaining member of the Illuminating Engineering Society of North America (IESNA), an Energy Star Partner and a Member of the International Dark Sky Association.
BULBRITE is headquartered at 145 West Commercial Avenue in Moonachie, New Jersey. Showrooms, Distribution and Educational Centers are located in Moonachie, New Jersey and Dallas, Texas.
Contact
BULBRITE Tel. 1.800.528.5555 Website: www.Bulbrite.com. Email: info@BULBRITE.com
E-mail:info@BULBRITE.com
Web Site:www.bulbrite.com