Austriamicrosystems introduces LED flash driver for digital cameras
Mar 10th, 2010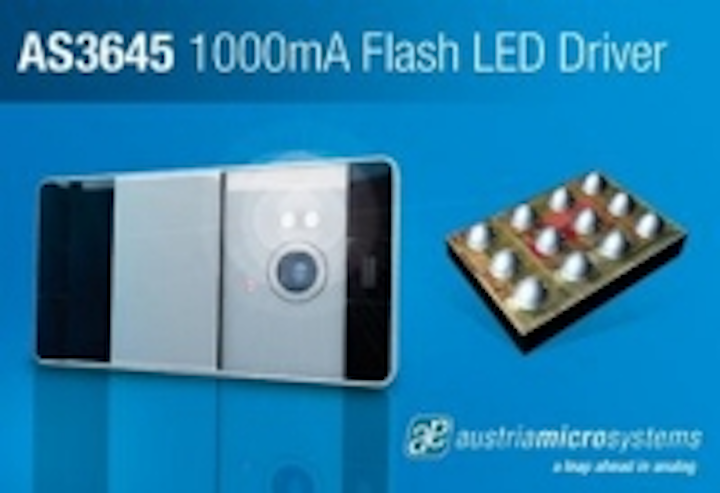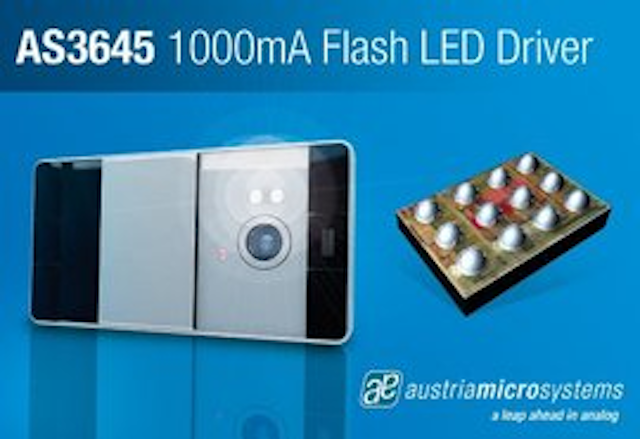 Date Announced: 10 Mar 2010
Austriamicrosystems (SIX: AMS), a leading global designer and manufacturer of high performance analog ICs today announced the AS3645 LED flash driver. This inductive, ultra small, high-efficiency single/dual LED flash driver offers 25 per cent higher output current than existing equivalents. The higher flash power enhances picture and video quality especially in low light environments at same system size.
The AS3645 inductive flash driver drives up to 1000 mA and can be used in single LED flash or double LED flash environments. The high-side current source works with up to 2x500 mA with two LEDs in serial configuration and up to 720 mA with one LED. When driving two LEDs in series, LEDs draw identical currents and provide output light matching and thermal dissipation. The AS3645 auto detects whether to employ single or dual LED mode and enables direct one-button flashlight mode. A number of safety features protect against circuit damage and improve test time, including programmable current limiting, auto test (LED open/short detection), overvoltage and undervoltage, overtemperature and automatic flash timeout timer for thermal LED protection during flash.
These features suit the needs of a camera phone flash, especially in smart phones and feature-phones. For other devices with cameras, including digital still cameras, camcorders and PDAs, the AS3645 flashlight driver is a perfect solution. Its high efficiency 2 MHz fixed frequency DC-DC boost converter with soft start allows small inductors and enables easy integration into noise sensitive RF systems. The high power LED flash current source can operate in flash, torch and assist (video) light mode. An additional current source drives an optional indicator LED. Control can be implemented through either the parallel interface mode to allow simple integration, or the I2C interface to allow more sophisticated control of all settings like currents and timings. The interface is selected by a dedicated pin (I2C/EN).
The AS3645 is available in a tiny WL-CSP package (3x4 balls 0.5 mm pitch, 2x1.6 mm) and has an operating temperature range of -30° to +85°C (ambient).
Price & Availability
Available in volume now, the price for the AS3645 is under $0.90 in 1000 piece quantities.
Technical Support
A demonstration board for the AS3645 inductive flash driver is available. Contact austriamicrosystems for price. In addition, the data sheet includes an applications section showing multiple modes of operation and interface. For further information on this innovative LED flash driver IC or to request samples, please visit www.austriamicrosystems.com/LED-flash-driver/AS3645.
About austriamicrosystems
austriamicrosystems is a leading designer and manufacturer of high performance analog ICs, combining more than 27 years of analog design capabilities and system know-how with its own state-of-the-art manufacturing and test facilities. austriamicrosystems leverages its expertise in low power and high accuracy to provide industry-leading customized and standard analog products. Operating worldwide with more than 1,000 employees, austriamicrosystems focuses on the areas of power management, sensors & sensor interfaces and mobile infotainment in its markets Communications, Industry & Medical and Automotive, complemented by its Full Service Foundry activities. austriamicrosystems is listed on the SIX Swiss Exchange in Zurich (ticker symbol: AMS).
Contact
43 3136 500-0
E-mail:info@austriamicrosystems.com
Web Site:www.austriamicrosystems.com