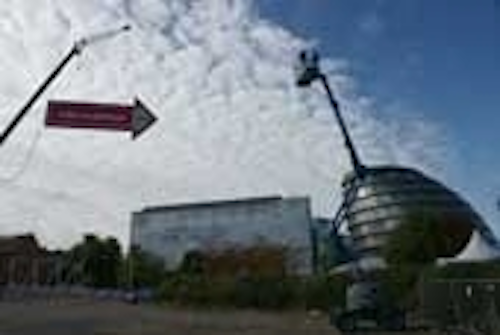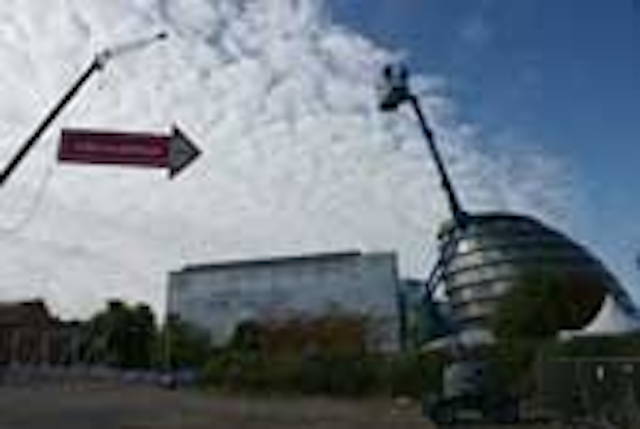 Date Announced: 05 Mar 2010
UK – 5th March 2010 - Flying 35m in the air for up to 11 hours a day, late 2009 saw a large format Lighthouse LED screen play a major role in a promotion for mobile phone giant Nokia's Ovi maps service and entertained thousands of Londoners in the process.
Taking place over a two-week period, the 14 x 4 panel (14.22m x 3.04m) Rn7-ER 7mm screen was suspended from a crane in the city's Potters Fields Park, near Tower Bridge. Mounted in a frame forming a giant arrow, it provided a unique form of interactive entertainment.
Passers by were encouraged to send a text message, which would be displayed on the screen along with the sender's distance, calculated by Ovi maps positioning technology. Also using that technology, the crane would be instructed to rotate and point the arrow in the direction of the sender.
Pod Bluman of Bluman Associates devised the technical solution from an original idea by Nokia's creative department and production managed by Neil Keane of EPMD, the biggest challenges of the project were the weight loading and the weather.
"The combined weight of the arrow frame and screen was approximately six tons," says Pod. "The crane and rigging companies set a wind speed limit, and if the wind went above that speed we had to drop the structure. But the Rn7-ER screen was great – pretty much perfect."
Another challenge was that the screen's feed had to be transmitted over 120m of cable, but it proved extremely stable. "We ran the signal HD/SDi and it was very robust," says Pod.
Culminating in a competition for Alexandra Burke to play a show in any UK town or city - ultimately won by Peterhead in Scotland - the Ovi maps promotion was a great success. One Nokia executive commented to Pod, "There are not many teams in the world that could have pulled off what you have achieved. Add to that the location that you built it in. I just wanted to congratulate you on your achievement."
"This use of Rn7-ER in a project such as this shows how effective the use of LED screen can be in such an unusual situation," adds Lighthouse's general manager for the UK. "The robustness and reliability of Lighthouse products also came to the fore to produce a great overall result."
~END~
Lighthouse Technologies Limited is a global leader in LED display technology that develops, manufactures, and markets LED video display solutions for multiple indoor & outdoor applications, media and entertainment events, and sports arenas across the globe. With numerous technological breakthroughs to its name, Lighthouse has established itself as a multi award-winning leader in the LED display industry that holds itself to the highest standards of quality.
Founded in 1998, Hong Kong-based Lighthouse has a strong global presence with regional offices in Europe, North and South America, the Asia Pacific and China. Employing the most advanced technology, the highest quality manufacturing facilities, and world-class, round-the-clock technical support, Lighthouse satisfies customers on every major continent, captivating the imagination of millions. For more information about Lighthouse, please visit
Contact
Sarah James Gasoline Media Limited Email: sarahj@gasolinemedia.com
E-mail:info@lighthouse-tech.com
Web Site:www.lighthouse-tech.com