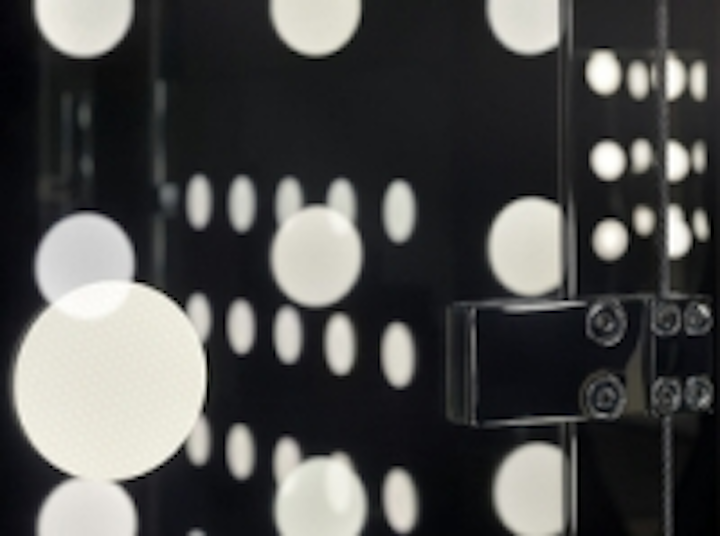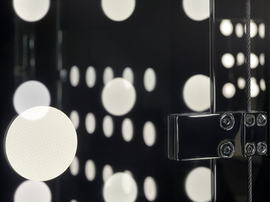 Date Announced: 11 Mar 2010
An impressive OLED installation designed by 'LichtKunstLicht' lighting designers is the main attraction on OSRAM's stand at the Light + Building 2010. Design objects and luminaires feature OLED solutions from OSRAM to showcase the range of wafer thin light sources in various colours and shapes.
OLED – inspiration at your fingertips: at OSRAM's stand visitors can not only marvel at OLED technology, but actively experience it. The spectacular installation was planned under the direction of Professor Andreas Schulz together with his team from the renowned lighting design office 'LichtKunstLicht'.
Reflective panes feature ORBEOS OLED panels that float virtually unfettered in the room and form walls as well as parts of the ceiling and floor. Visitors can walk through the installation and see first-hand that in the future lighting will no longer have to be produced from just one central point by individual luminaires. Where conventional luminaire designs dictated lighting design in the past, OLEDs will provide unprecedented creative freedom in the future. "With OLED technology, architecture has been given a new building material which will change our perception of space and light – our design is a sneak preview into the future of light", says Professor Andreas Schulz.
Long-lasting surface light as a design element
OLEDs open up completely new possibilities for architects, lighting planners and designers –any object, piece of furniture, wall, ceiling, or window can be turned into a light source. Even illuminating surfaces such as lit ceilings and partition walls are feasible with OLED technology.
These applications will be demonstrated at OSRAM's Light + Building stand. A display case with integrated OLED panels shows the opportunities that coloured or white light sources provide. A light fixture with 90 ORBEOS panels shows possibilities for displaying exhibits and merchandise in museums and retail stores in an impressive manner. With the warm, soft and glare-free light of OLED, exhibits in museums can be staged far more naturally and impressively than with conventional lighting effects.
The new surface lights provide even graphic effects and a wide range of colours and shapes as demonstrated by a combined partition panel measuring one square metre. The fourth exhibit shows a functional combination of two new lighting technologies – the point light source LED with the surface light source OLED creates a beautiful combination for individual lighting applications at home.
The future of lighting has already begun – with its symbiosis of energy saving and aesthetic appeal, OLED technology turns light into an experience.
Contact
For more information, please call 01744 812 221, email csc@osram.co.uk or visit www.osram.co.uk.
E-mail:csc@osram.co.uk
Web Site:www.osram.com