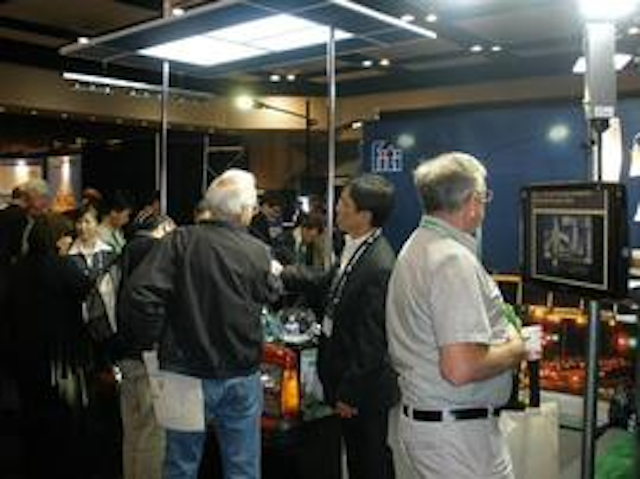 Date Announced: 05 Mar 2010
As a primary sponsor of 2010 Strategies in Light conference, Foxsemicon Integrated Technology Inc. (FITI) received overwhelmed complements of their newly developed LED lighting products, including the BRIVO Light engine series, SHINER office recessed T Bar and SPARKOV LED light bulbs.
Strategies in Light is the largest business conference and exhibition of HB (high-brightness) LEDs and solid state lighting. This year, nearly 3000 attendees and 90 exhibitors from various countries and industries gathered at the Santa Clara convention center in California, between February 10th and 12th, to learn more about LED technology, to find out trends in the lighting market, and to seek for most updated LED lighting solutions.
Having a booth designed to simulate a "driving down the street" theme, FITI wanted each visitor to experience a real LED roadway. Three FITI BRIVO LED street lights soon became the brightest attraction on the show floor. Lighting Designers, Specifiers, Architects, Luminaire Manufacturers, distributors and investors filled up FITI's booth space and inquired all types of information about FITI's LED luminaries.
It appears that the focus of FITI's products is to provide a quick retrofit solution for many applications. BRIVO LED light engine can be considered as a modularize-able light tube. With ultra bright performance and various configuration options, BRIVO light engines can be easily created as street light, flood light, bay light, billboard light or other common industrial luminaries.
All models are IP65 certified so there are ideal for many indoor and outdoor applications. Many lighting professionals liked BRIVO light engine because it provides greater possibility and flexibility then the other light modules available in the market. Some also commented that it's an ideal replacement of metal halide light, but weights much lighter and consumes much lower wattage.
Other LED products such as FITI SHINER LED office T Bar and SPARKOV LED bulbs both addressed the fact that LED will soon come to our day to day life, whether it is in the workplace or at home. By consuming as little as 38 watt, FITI SHINER LED office T Bar not only brings quality light to the office space, but also helps to cut down the electricity bill and maintenance fee. The company announced that they are now a Lighting Facts partner and have received Lighting Facts Label for their SHINER line.
SPARKOV LED light bulbs, on the other hand, attracted a group of tech gurus who were anxious to bring some home right away. These light bulbs carry all the goodness of LED technology and come with 3 colors to meet different aspects and expectations of home lighting. SPARKOV LED light bulbs feature 7 to 10 Watts, more than 400 lumens, high efficacy, great light distribution and a very long lifespan (up to 50,000hrs or more!).
About FITI
As a subsidiary of HON-HAI (FOXCONN) group, one of the top EMS providers in the world, Foxsemicon (FITI) was incorporated in April 2001 as a semiconductor and Flat Panel Display equipment contract manufacturer. In 2006, FITI has expanded business scope to include Renewable Energy, LED Display and HB LED Lighting. Patented technology, innovative design and competitive performance summarize the characteristics of all FITI LED lighting products. Each FITI LED lighting product is designed to deliver feasible functions: to provide acceptable quality of light, to generate more energy savings, and to minimize the cost of ownership. FITI LED Lighting Product lines: (1) Outdoor Lighting: LED Street light, bay light, signage and display and solar ground light (2)Indoor Lighting: LED recessed lighting panels (T-Bar) (3) LED light engine series (4) LED light bulb series (5)LED optical components.For further information, please visit www.foxsemicon.com.
Contact
96 Bonaventura Dr., San Jose, CA 95134 Tel:408-383-9880 Fax: 408-383-9882 Claire Chen, Marketing Department
E-mail:claire.kc.chen@foxsemicon.com
Web Site:www.foxsemicon.com