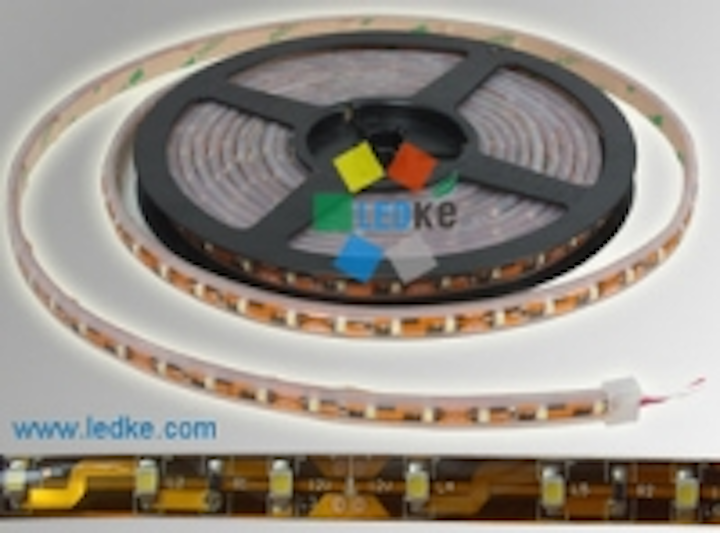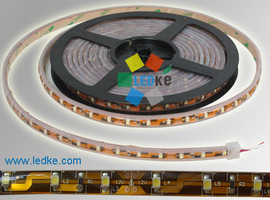 Date Announced: 18 Mar 2010
LEDKE Technology Co., Ltd (www.ledke.com) recently introduce soft flexible led light strip. This strip is used soft PCB board as a substrate, high-brightness SMD LEDs as light source, the LEDs evenly distributed on the surface of strip PCB board, light-emitting angle of 120 - 180 degrees, and with very slim design. Every three LEDs compose a loop, you can cut off the strip between each 3 LEDs along the cutting line marked on the PCB, on the back there is 3M adhesive for pasting, can be arbitrarily fixed on the uneven surface. Also, there are many color available, such as: Red, yellow, blue, green, white, warm white and so on.
Features:
1. Use super brightness SMD 3528 LED as light source.
2. Flexible and can be fixed on uneven surface, small volume, available in many colors.
3. Each three LEDs an make a loop and can be cut according to the incising line, without damaging other parts.
4. Low power consume, safe for use.
5. Used for illumination around the transparent or non-transparent material.
Application:
1) Architectural decorative lighting.
2) Archway, canopy and bridge edge lighting.
3) Amusement park, theater and aircraft cabin mood lighting.
4) Emergency hallway lighting.
5) Auditorium walkway lighting.
6) Stairway accent lighting.
7) Concealed lighting.
8) Backlighting for signage letters.
9) Channel letter lighting.
10) Emergency exit path lighting.
11) Cove lighting.
12) Edge-lit acrylic panel lighting.
Contact
LEDKE Technology Co., Ltd Tel: 86-0755-27319793 Fax: 86-0755-82949887
E-mail:info@ledke.com
Web Site:www.ledke.com