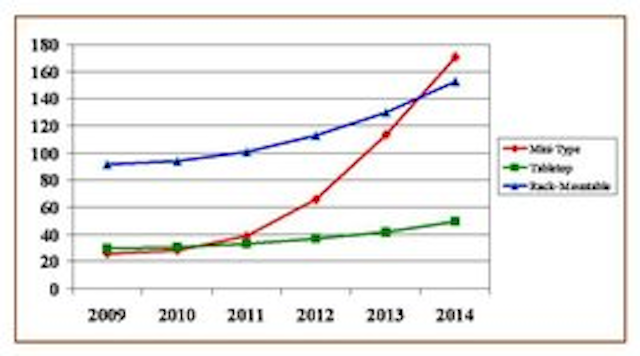 Date Announced: 03 Mar 2010
Upper Lake, CA (USA) -- ElectroniCast Consultants, a leading market research consultancy, today announced the release of a new market forecast of the global market consumption of DMX512 controllers.
The American National Standards Institute (ANSI) approved a revised standard, known officially as "Entertainment Technology —USITT DMX512-A — Asynchronous Serial Digital Data Transmission Standard for Controlling Lighting Equipment and Accessories, in November 2004 (E1.11-2004). It is a standard for digital communication networks that are commonly used to control intelligent/advanced lighting fixtures, dimmers, special effects devices, moving lights and other devices.
"Sure, DMX512 controllers are used by DJs on the dance floor, sporting-events and concerts and Theater companies for the purpose of providing creative/artist-driven lighting effects; however, an increasingly number of other consumer groups, are participating in this dynamic marketplace," said Stephen Montgomery, president of International Business at ElectroniCast Consultants.
According to the ElectroniCast market research, the acceptance by the marketplace of mini-type wall mountable DMX512 lighting control units will result in a "hockey-stick" volume (quantity) growth pattern, as illustrated.
"This is an obvious example of a window of opportunity, and reveals a relatively rare occurrence in DMX512 controller marketplace. One of the most dynamic growth, will be a result of the increased demand for the innovative lighting controls of high brightness light emitting diodes (HB-LEDs) in interior decorating and architectural solid-state lighting (SSL) purposes," Montgomery added.
This market forecast report is available immediately, at a fee of $4,200, from ElectroniCast Consultants.
ElectroniCast Consultants specializes in forecasting trends in technology, markets and applications forecasting, strategic planning and consulting. ElectroniCast Consultants, as a technology-based independent forecasting firm, serves industrial companies, trade associations, government agencies, communication and data network companies and the financial community. Reduction of the risk of major investment decisions is the main benefit provided. ElectroniCast Consultants' goal is to understand the challenges and opportunities facing clients and to provide timely, accurate information for strategic planning.
Contact
Theresa Hosking Director of Sales and Marketing ElectroniCast Consultants, Upper Lake, CA PH: 707-275-9397 FAX: 707-275-9502
E-mail:thosking@electronicastconsultants.com
Web Site:www.electronicast.com