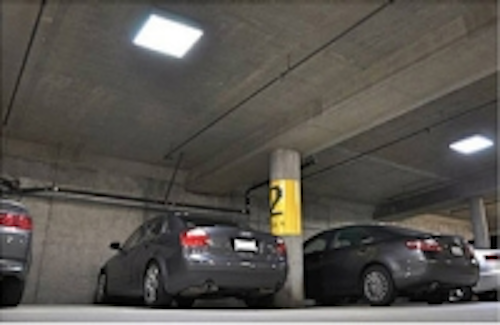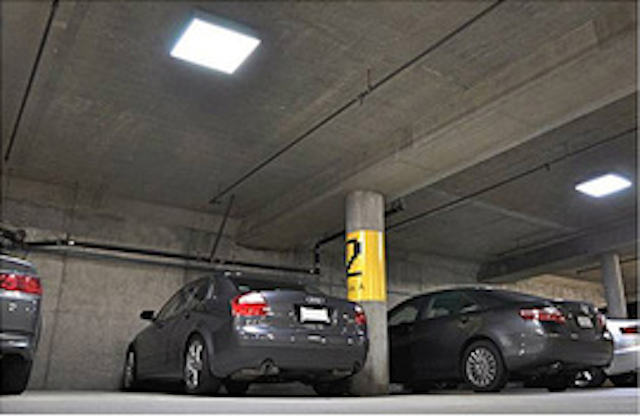 Date Announced: 02 Mar 2010
Lunera Lighting, Inc., a Silicon Valley company that designs, manufactures, and markets next-generation LED lighting, announced today that it has released a new damp rated, industrial version of its popular 2200 Series LED fixture designed for parking garage environments. The modular, easy to install parking garage luminaire has seen strong interest because of the fast payback realized from the energy savings, lower maintenance costs and improved security it delivers. To learn more about how to "Park in a New Light" please visit: www.lunera.com/products/parking_garage.html.
"As a member of the National Parking Association, Lunera® is excited to help propel the parking garage industry forward to being more energy efficient. Since electricity costs are a major driver of total garage expenses, LEDs are not just 'green,' they put more green right to the bottom line," commented Michael Lesyna, Lunera President and CEO.
The tough, low profile 2200 2'x2' LED fixture is dry/damp rated and equipped with an industrial surface mount kit. Lunera's ultra efficient fixtures typically deliver uniform lighting at less than 50% of the ASHRAE standard illumination requirements for parking facilities. The environmentally friendly fixture is now available and has experienced notable initial success. Lunera representatives can assist interested parties with a facility payback analysis and a consultation on available government subsidies that can reduce initial costs by up to $150 per fixture.
"Making the change to LED lighting is a natural choice for parking garages. The uniform quality of the light delivered by the 2200 LED fixtures provides significant energy savings while improving light levels, which adds to the safety and security of the building," stated Tom Quinn, Lunera VP of Sales and Marketing. "By creating the 2200 Series, we are supporting the mainstream adoption of LED lighting into a greater variety of commercial facilities," Quinn added.
Lunera 2200 LED Fixture
By utilizing state of the art engineering design, Lunera achieves greater output efficiency and extended lifetime performance while reducing the carbon footprint of the facility. The features of the rugged 2200 industrial version include:
-- Easy to install -- modular design
-- Industrial fixture housing
-- Ultra thin profile
-- 3,800 lumens
-- 62 watts
-- Dimmable (0-10 volt)
-- 4000K-5000K color temperature
-- Easily remotable power supply
-- 25%-50% energy savings
-- 5 Year Warranty
About Lunera Lighting
Lunera Lighting is a technology innovator leading the transformation of lighting from traditional fluorescent lighting to energy-efficient LEDs that produce soft, uniform light. It designs, manufactures, and markets high-performance LED lighting fixtures as a direct replacement for fluorescent fixtures commonly found in commercial buildings. The company has created new lighting solutions that improve the quality of light for building occupants, lower energy and operating costs for building owners, and support sustainable building design.
Manufactured in the USA, Lunera's products adhere to clean manufacturing standards and are particularly attractive to clients seeking LEED certification, since LED lighting substantially impacts LEED points in "green" buildings. The company is a firm believer in social responsibility and has made it part of their corporate philosophy. Visit http://www.lunera.com for more information.
A Lunera lighting consultant is available to answer questions, provide information, and create a free space evaluation to determine payback. Interested parties can get more information about the Lunera 2200 and the parking garage program at: www.lunera.com/products/parking_garage.html and should contact Lunera at 650-241-3875 or by email at info@lunera.com.
©2010 Lunera Lighting, Inc. All rights reserved. Specifications are subject to change without notice. Lunera® is a registered trademark of Lunera Lighting, Inc., The Lunera logo and Life in a New Light are trademarks of Lunera Lighting, Inc. All other trademarks are the property of their respective companies.
Contact
650-241-3875
E-mail:info@lunera.com
Web Site:www.lunera.com