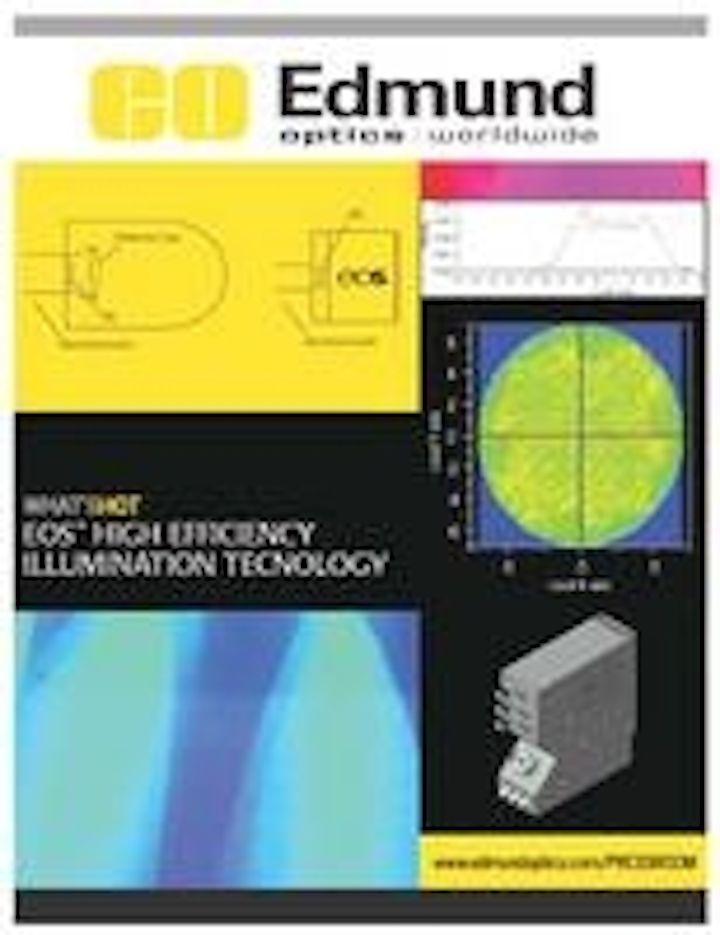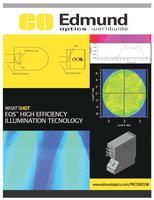 Date Announced: 02 Feb 2006
LED Technology Now Poised to Replace Quartz Halogen
EOS™ transformed LEDs 2-5x brighter than quartz halogen, lasting 20-50x longer
****
Edmund Optics Inc. has announced the launch of its breakthrough illumination delivery technology -- EOS™ -- a next generation approach to increasing illumination brightness in LEDs. EOS™ delivery technology essentially reinvents LEDs, ultimately making them more useful to a wider variety of markets.
"This discovery has created a tremendous gain in power and lifetime for LEDs. As the EOS™ technology flows to market, scientists and engineers will be able to utilize this revolutionary technology to replace the majority of quartz halogen bulbs over the next several years," said John Stack, President and COO. "We are certain that this innovative optical solution will be applicable to future developments at the source/die level."
The new EOS™ technology will create new opportunities for the use of LEDs in automotive headlamps, scientific instrument lighting, infrared military illuminators, surgical headlamps, and portable projector systems to name a few.
"EOS™ technology is used to direct energy from the LED chip with unprecedented efficiency and unsurpassed uniformity at the target. 150 watt quartz halogen bulbs typically last 1,000 hours. Initial testing results indicate that with the new optical design, the EOS™ transformed LED will be at least 2-5x brighter than quartz halogen, lasting 20-50x longer," commented Chris Cummings, R&D Engineer at Edmund Optics.
The illumination and lighting industries have struggled to harness the output of LED energy into useful illumination. While an LED delivers a longer illumination lifetime and is more energy efficient than quartz halogen – it has never delivered the brightness required in the manufacturing, medical, military or machine vision environments. Quartz halogen is a brighter source and therefore continues to dominate many of these applications.
LED technologists have continued to address the brightness issue by optimizing materials and the manufacturing process. These approaches still fall short of the rigorous brightness requirements, and therefore end users persist in driving the chip harder, increasing power to achieve a better result. Unfortunately, this method decreases the lifetime of the LED, one of its primary advantages over quartz halogen.
Recognizing this problematic balance between driving the chip and LED lifetime, Edmund Optics sought an unconventional approach to the brightness problem. "Our approach was to go back to the fundamental limits of physics; then use building blocks to come up with a radically new, yet simple and elegant optical solution," commented Samuel Sadoulet, Director of Engineering.
EO developed a patent-pending, optical technology that when used in conjunction with an LED more effectively directs light into a tightly focused and manageable bundle of light, minimizing any thermal concerns that impact the life of the chip. For the first time, the drawback of using an LED has been eliminated, allowing LEDs to compete at a favorable price at the same brightness as quartz halogen or other alternatives.
"The first product to use this technology is an Edmund Optics' designed LED fiber optic illuminator for the industrial vision market available in the second quarter of 2006. We are also working on licensing agreements for use of this new innovation in a broad range of industries," said Sadoulet.
Contact
Edmund Optics 101 East Gloucester Pike Barrington, NJ 08007 Phone: 856-573-6250 Fax: 856-573-6295
E-mail:sales@edmundoptics.com
Web Site:http://www.edmundoptics.com