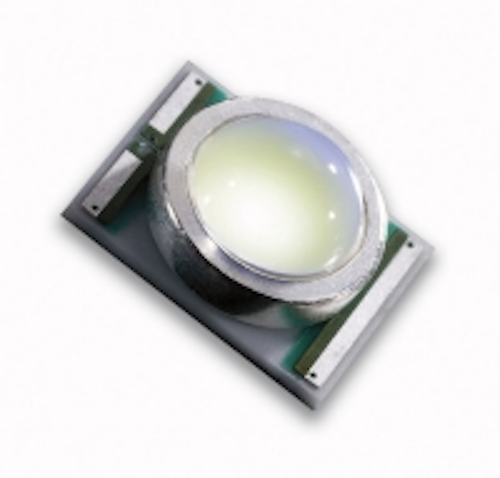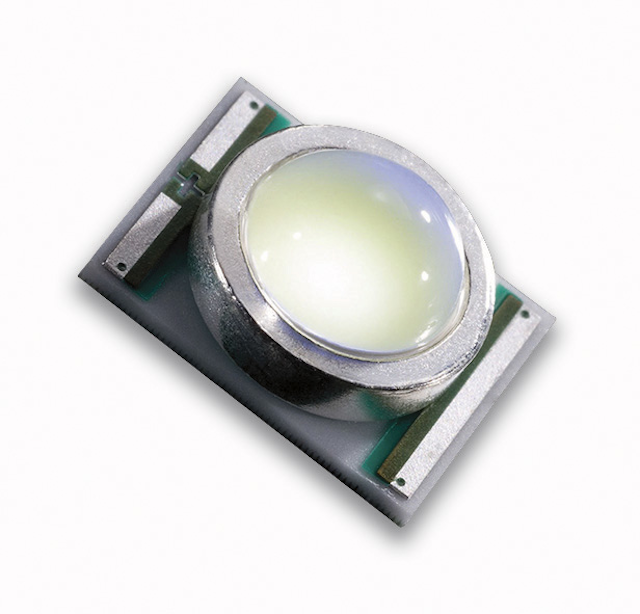 Date Announced: 16 Feb 2006
Cree, Inc. (NASDAQ: CREE), a leader in LED solid-state lighting components, today announced general availability of the industry's highest efficacy white power LEDs at 350 mA.
Cree's white XLamp® 7090 power LED package achieves a typical efficacy of 47 lumens per watt at a drive current of 350 mA, and 57 lumens of typical light output. Cree also announced the availability of XLamp 7090 in warm white (2700-4500K) to address the emerging market for residential lighting applications.
"To replace the light bulb cost effectively with solid-state technology, LED manufacturers have to maximize the efficacy (lumens/watt) of their high-power LEDs. Energy savings is the most important metric as we build the business case for the residential lighting fixtures of today," notes Manuel Lynch, Permlight Products president and CEO.
"Cree has done a terrific job of providing us with highly efficient power LEDs allowing us to replace incandescent and compact fluorescent technologies in new homes throughout California. We are currently selling under-counter, step and pathway light fixtures based on the white XLamp 7090 power LED."
"This advancement is another step toward making LED lighting a reality in the general illumination market," notes Mark McClear, Cree director of marketing for lighting LEDs. "We have once again raised the bar for 350 mA operation, which is the benchmark for most solid-state lighting applications."
The XLamp 7090 power LED also features:
* Reduced thermal resistance to 8°C/watt.
* Electrically neutral thermal paths, allowing use of economical printed circuit boards.
* Reflow solderability.
For additional information on Cree LEDs, please call 919-313-5300 or visit www.cree.com/xlamp. Cree's brightest XLamp 7090 LEDs will be featured in warm and cool white at Light + Building in Frankfurt, Germany, April 23-27, and at Lightfair International, May 30-June 1, in Las Vegas.
About Cree, Inc.
Cree is a market-leading innovator and manufacturer of semiconductors and devices that enhance the value of solid-state lighting, power and communications products by significantly increasing their energy performance and efficiency. Key to Cree's market advantage is its world-class materials expertise in silicon carbide (SiC) and gallium nitride (GaN) for chips and packaged devices that can handle more power in a smaller space while producing less heat than other available technologies, materials and products.
Cree drives its increased performance technology into multiple applications including exciting alternatives in brighter and more tunable light for general illumination, backlighting for more vivid displays, optimized power management for high-current switch-mode power supplies and variable speed motors, and more effective wireless infrastructure for data and voice communications. Cree customers range from innovative lighting fixtures makers to defense related federal agencies.
Cree's product families include blue and green LED chips, lighting LEDs, LED backlighting solutions, power switching devices and radio frequency/wireless devices. For additional product specifications please refer to www.cree.com.
This press release contains forward-looking statements involving risks and uncertainties, both known and unknown, that may cause actual results to differ materially from those indicated. Actual results may differ materially due to a number of factors, such as the rapid development of new technology and competing products that may impair demand or render our products obsolete; the potential lack of customer acceptance for the products; variations in demand for Cree's products and its customers' products; and other factors discussed in Cree's filings with the Securities and Exchange Commission, including its report on Form 10-K for the year ended June 26, 2005, and subsequent filings.
Cree, the Cree logo and XLamp are registered trademarks of Cree, Inc.
Contact
Deb Lovig Marketing Communications Cree, Inc. Tel. +1 919-287-7505
E-mail:deb_lovig@cree.com
Web Site:http://www.cree.com/xlamp