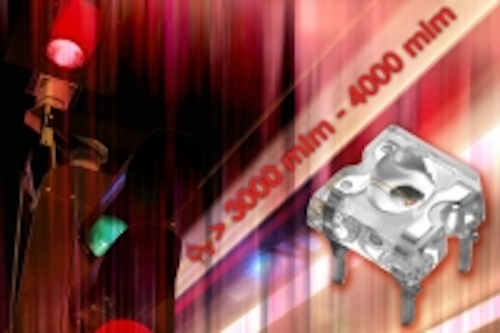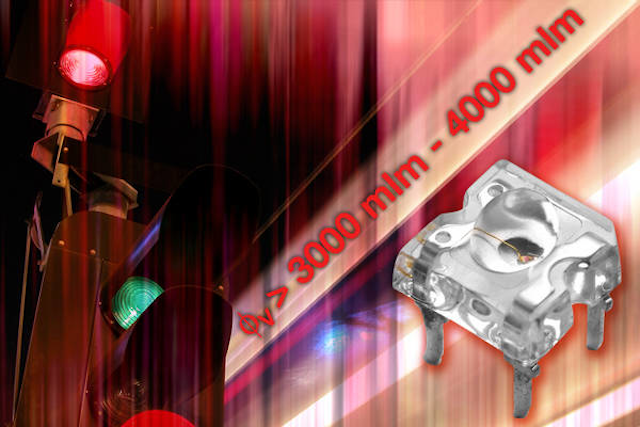 Date Announced: 25 Feb 2006
Vishay's New Red TELUX® Super-Bright LEDs with Special Oval Lens and 90-K/W Heat Dissipation Enable More Efficient, Cost-Effective Automotive Lighting
MALVERN, PENNSYLVANIA - Vishay Intertechnology, Inc. (NYSE: VSH) today announced the release of six new TELUX® series clear, non-diffused red LEDs featuring one of the world's brightest AllnGaP on GaAs (OMA) technologies and constructed with a special oval lens that reduces the number and cost of LEDs required in automotive and other lighting applications.
Designed for applications requiring utmost luminous flux, these TELUX LEDs provide broad illumination that enables more efficient lighting for traffic signals and signs; tail, brake, central high-mounted stop lights (CHMSL) and turn signals for motor vehicles; and exterior lighting. They also can serve as replacements for small incandescent lamps.
Available in an industry-standard 7.62mm square package, the super-bright LEDs feature excellent heat dissipation (R
fhJP
) of 90 K/W, which in turn allows for a high operating temperature range of -40 °C to +110 deg.C. Because all packaging units are binned for luminous flux, forward voltage, and color, they provide a very homogenous appearance when used together in the same lighting system.
Luminous intensity ratings for the new devices are >3000 mlm, >3500 mlm, and >4000 mlm, available with a 25x68 or 40x90 angle of half intensity. All six of the red LEDs announced today meet SAE and ECE color requirements for automotive applications and are rated for ESD resistivity of 2 kV (HBM) according to MIL STD 883D, method 3015.7.
To simplify manufacture of lighting systems, the TELUX LEDs have been packed in tubes for automatic insertion. Small mechanical tolerances enable precise use of external reflectors or light-guides. Each device is lead (Pb)-free and compliant with RoHS 2002/95/EC and WEEE 2002/96/EC.
Samples and production quantities of the new red TLWR9420, TLWR9421, TLWR9422, TLWR9520, TLWR9521, and TLWR9522 TELUX LEDs are available now with lead times of four weeks.
Vishay Intertechnology, Inc., a Fortune 1,000 Company listed on the NYSE (VSH), is one of the world's largest manufacturers of discrete semiconductors (diodes, rectifiers, transistors, and optoelectronics) and selected ICs, and passive electronic components (resistors, capacitors, inductors, and transducers). Vishay's components can be found in products manufactured in a very broad range of industries worldwide. Vishay is headquartered in Malvern, Pennsylvania, and has operations in 17 countries employing over 25,000 people.
TELUX is a registered trademark of Vishay Semiconductor GmbH
Contact
Vishay Intertechnology, Inc. Samples: +1 (619) 336-0860
E-mail:info@vishay.com
Web Site:http://www.vishay.com