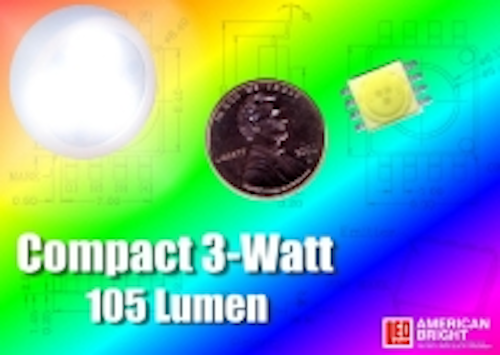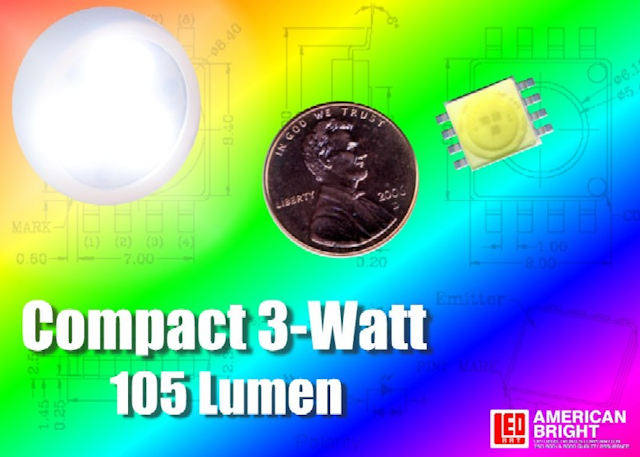 Date Announced: 09 May 2006
American Bright Optoelectronics Corporation introduces RoHS compliant, 9mm x 9mm 3-watt LED capable a 105 lumens typical output.
The new BWL series offers industry leading light output in innovative, eight-lead package that is IR-Flow solderable.
Chino, Ca. May 9, 2006 – American Bright Optoelectronics Corporation introduced the BWL-3B series of 3-watt high-power LEDs. This new 9mm x 9mm package is over a third smaller than previous versions allowing for higher packaging densities and smaller luminaire designs. The new series is ideally suited for general lighting applications such as area and task lighting, architectural and decorative lighting and backlighting. The series is available in a wide range of colors including industry standards such as 460nm blue to 630nm red, cool white (6500K CCT), warm white (3300K CCT) and RGB.
The efficiencies achieved by the new BWL-3B series are a result of the innovative packaging of multiple dice in a single multi-leaded package. This packaging allows for each die to be independently addressable and independently assignable. The independent nature of this design allows for stage powering of the device in 1-watt increments effectively giving the user three separate flux intensities without the need for complex controllers or specialty drivers. The same innovations that allows for stage powering also allows for the most efficient RGB scheme available.
Typical RGB intensities of red (25 lumens), green (35 lumens) and blue (10 lumens) are achieved with the BWL-3B series. These independent output efficiencies allow for the creation of an unlimited number of colors giving designers freedom to create exact color matches for specific applications. The fast response times of the BWL-3B series in RGB would allow for the creation of daylight visible moving message signs and displays.
Other features include a 120-degree viewing angle and an extended operating temperature range of -30ºC ~ +100ºC (-22ºF ~ +212ºF) making the BWL-3B series ideal for both interior and exterior SSL applications. Complete technical specifications are available for each wavelength and configuration online at www.americanbrightled.com including charts and graphs detailing: forward current vs. ambient temperature, relative intensity vs. junction temperature, forward current vs. forward voltage, relative intensity vs. forward current.
"We believe that this package design will give designers more freedom in configuring light engines for their designs," said George Lee, President of American Bright Optoelectronics Corporation. "The innovations and efficiencies are advancing at such a pace that our newest products are creating true alternatives in the lighting industry to incandescent lamps".
The BWL-3B series is available from stock and is priced from under $10.00 each in production quantities. Limited samples are available to qualified customers. Custom configurations are available, please contact the factory for further information toll free at 1-888-533-0800, or visit American Bright online at www.americanbrightled.com.
About American Bright Optoelectronics
American Bright Optoelectronics is a subsidiary of Taiwan-based Bright LED Electronics Corporation, a recognized leader in the research, engineering, manufacturing and marketing of LED components to major markets worldwide. Formed as the marketing organization for the Americas and Canada in 1995, American Bright has enjoyed sustained growth while introducing several innovations to a wide variety of markets.
Conscious of their global responsibility to the environment, the majority of products are produced with lead-free, RoHS compliant materials and processes. Bright LED Electronics and American Bright Optoelectronics are ISO9001:2000; ISO 14000: 2004 and TS16949 certified.
For more information or to receive a catalog, contact American Bright Optoelectronics Corporation, 13815-C Magnolia Ave., Chino, CA 91710. Tel: (909) 628-5050, Fax: (909) 628-5006. Toll Free (888) 533-0800. e-mail: info@americanbrightled.com. Website: www.americanbrightled.com.
Contact
American Bright Optoelectronics, Corp. Technical/Management Contact: Steven Chen (909) 628-5050
E-mail:stevenc@americanbrightled.com
Web Site:http://www.americanbrightled.com