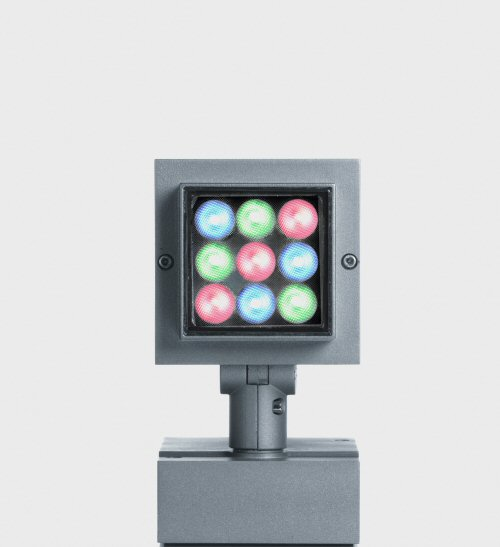 Date Announced: 02 May 2006
Flexible indoor and outdoor lighting tools are easily controlled with DALI
******
LEDs are a trendsetting alternative to traditional light sources – especially where their specific characteristics can be used to advantage. These characteristics include: extreme longevity, high efficiency and luminous efficacy, robust construction and the extended options of switch, dim and control ability.
The ERCO range features a large variety of luminaires with white LEDs but also DALI-compatible lighting tools with LEDs for dynamic colour-mixing for both indoor and outdoor lighting. Due to the additive colour-mixing of separately controllable light sources, the light colour of ERCO LED Varychrome luminaires can be dynamically controlled using the colours red, green and blue.
For this, the luminaires have DALI control gear that can be individually addressed, so that they can be integrated into control systems such as ERCO Light System DALI. Complex lighting functions such as the Varychrome colour mixing technology can be operated easily and intuitively with the Light Studio software. Coloured LED lighting can thus be integrated seamlessly into scenographic lighting concepts.
ERCO has made use of this technology to introduce two new tools for indoor lighting: the Optec Varychrome spotlight for accent lighting and the Quadra Varychrome wallwasher for exceptionally uniform, vertical illuminance. This expands the range of scenographic applications. The innovative spotlight featuring twelve high-power LEDs is designed specifically to complement the well-established Optec product range.
Its coloured light is ideal for adding accent lighting in shop windows, sales rooms, exhibitions, multifunctional rooms and in private homes. The internal spot reflector/lens system produces a narrow-beam light distribution, while a Softec lens ensures a complete mixing of the primary colours red, green and blue on the illuminated object.
The Quadra LED wallwasher is now also available with high-power coloured LEDs for Varychrome technology. Vertical surfaces or wall areas can now be accentuated in any colour. A specially designed lens/reflector system produces a high level of uniformity and perfect colour mixing. The darklight reflectors, visible from below, are glare-free as they have a cut-off angle of 50 degrees resulting in high visual comfort.
The maintenance-free LED luminaires are designed for outdoor use in places that are difficult to access. The Grasshopper projectors are ideal for highlighting facade details, sculptures, plants and trees and are available with white LEDs and in DALI-controlled Varychrome technology.
They have a robust multi-powder-coated IP65 cast-aluminium housing, which can be accurately adjusted due to their rigid hinges. The control gear housing is separate from the light head and provides optimal operating conditions for the electronic components.
A further ERCO product range with LED technology is the Focalflood façade luminaire, also available with white LEDs or Varychrome technology. Its grazing light reveals the surface texture of facades at night and can turn key buildings into urban landmarks. The narrow-beam light distribution projects light along the wall preventing unnecessary light pollution.
Due to their excellent efficiency, the high-power LEDs used create great effects, yet with a low connected load. This also applies to Tesis LED recessed floor luminaires, whose treated cover glass produces a diffusely luminous surface in white or, where the Varychrome version is used, in any colour. They are suited to numerous applications both indoors and outdoors, including orientation luminaires accentuating architectural lines, entrances and paths and creating dynamic effects such as colour changes or running light.
Contact
KOOB – Agentur für Public Relations GmbH (GPRA) Solinger Str. 13, D-45481 Mülheim an der Ruhr Britta Noras Tel: +49 208 46 96 361 fax: +49 208 46 96 300
E-mail:britta.noras@koob-pr.com
Web Site:http://www.erco.com