Catalyst announces fully programmable, 300mA camera flash LED driver
Apr 18th, 2006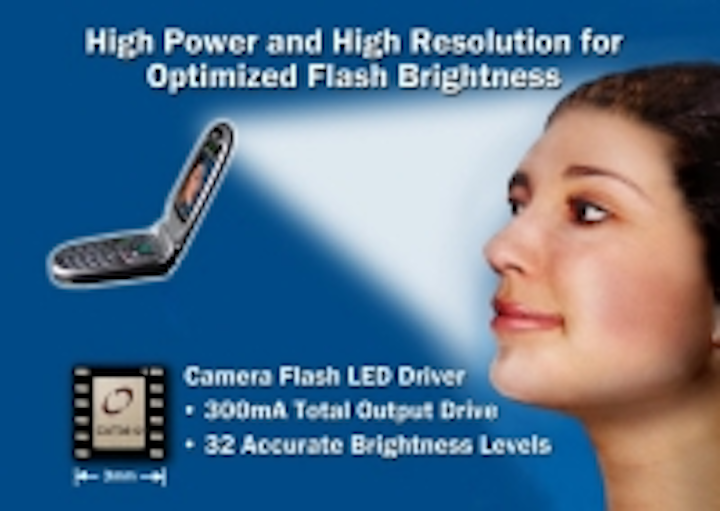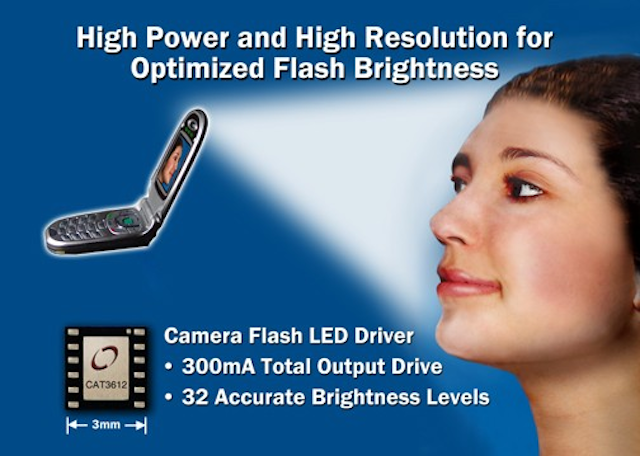 Date Announced: 18 Apr 2006
CAT3612 charge pump provides maximum current control for optimized flash brightness in camera phone applications
SUNNYVALE, Calif., April 18, 2006 -- Catalyst Semiconductor, Inc. (NASDAQ:CATS) a supplier of analog and mixed-signal semiconductors for solid state illumination and display products today further expanded its family of LED drivers with the CAT3612; a fully programmable, 300mA Camera Flash LED Driver. The CAT3612 combines Catalyst's recently introduced, flexible 1-Wire EZDim(TM) programming along with a tightly matched pair of high power output channels to accommodate the flash brightness requirements of today's increasing mega-pixel camera phones – all in a space-saving 3x3mm TDFN package.
The CAT3612 reduces system complexity by providing full programmability of all flash functions, including setting enable/disable and brightness level of the flash function from a single microcontroller pin via Catalyst's 1-wire EZDim(TM) programming interface.
Designers have maximum control of current and brightness with 32 programmable output power levels for setting flash (strobe) and movie (torch) modes. Traditional flash LED devices typically offer very limited, pre-defined and pre-set brightness values for flash/movie modes, whereas the CAT3612 offers fine resolution programming (5mA steps per channel) to meet specific system requirements. Additionally, dual, tightly matched output channels make the device ideal for camera flashes using multi-LED modules or single, high-brightness LEDs.
The CAT3612 maximizes battery life with an automatic 1x/1.5x charge pump which delivers up to 90 percent power efficiency. When disabled, the device enters "Zero" current shutdown mode, eliminating battery drain when not in use. Protection against short-circuit and thermal overload fault conditions is also included.
A low profile, 0.8mm, RoHS compliant 3x3mm TDFN package, low external parts count and fixed high frequency (1MHz) operation all contribute to the reduction of system board area.
Product Features:
- Dual, tightly matched, regulated LED channels
- 300mA Max Output Current (150mA per channel)
- 1-wire EZDim(TM) LED Current Programming
- 32 Accurate Brightness Levels (5mA steps per channel)
- Power Efficiency up to 90 percent
- Automatic 1x/1.5x Fractional Charge Pump
- Fixed High Frequency Operation (1MHz)
- "Zero" Current Shutdown Mode
- Soft Start and Current Limiting
- Thermal Shutdown Protection
- Low profile 0.8mm max height 3x3mm TDFN Package
- 100% RoHS-compliant Green Package
Price and Green Package Availability
The CAT3612 is offered in a RoHS-compliant, environment friendly "green" 3mm x 3mm TDFN 12-lead package. Ordering code is CAT3612HV4 and pricing for 10,000 piece quantity is $1.06. Samples and evaluation kits are available now. Projected lead-times for production quantities are currently 6 to 8 weeks ARO.
About Catalyst Semiconductor
Founded in 1985, Catalyst Semiconductor, Inc. is headquartered in Sunnyvale, California. The Company produces analog and mixed signal products, in addition to an extensive range of nonvolatile memories. The analog and mixed-signal product lines include Digitally Programmable Potentiometers [DPP(TM)], Microcontroller Supervisory circuits, White and Color LED Drivers and DC/DC converters. The memory product lines consist of Serial and Parallel EEPROMs, Flash and NVRAM. Catalyst devices are used in telecommunications, networking systems, computation, automotive, industrial and consumer markets. Typical applications include LCD displays, automotive instrumentation, optical networks, modems, wireless LANs, network cards, DIMM modules, cellular telephones, digital satellite box receivers, set-top boxes and Internet routers. Catalyst's Quality Management System is ISO 9001:2000 certified. All Catalyst products are available in "green" lead- and halogen-free versions with full RoHS compliance. For additional information about Catalyst Semiconductor, visit our website at: www.catsemi.com.
Forward Looking Statements
Certain statements in this press release are forward looking statements that are subject to risks and uncertainties. These forward-looking statements, include, but are not limited to references to product availability and lead times. Risks from interruptions in our manufacturing processes and the processes of our foundries and vendors, as well as changing customer demand, unpredictable market demand, and the cyclicality of the semiconductor industry can affect product lead times, availability, pricing and margins. Additional information concerning factors that could cause actual results to differ materially from those in the forward-looking statements is contained under the heading "Certain Factors That May Affect the Company's Future Results of Operations" listed from time-to-time in Catalyst's SEC reports including, but not limited to, the report on the Form 10-K for the year ended April 30, 2005 and Forms 10-Q for the subsequent three fiscal quarters.
###
Editor Notes:
1. Trademark notices: EZDim and DPP are trademarks of Catalyst Semiconductor, Inc.
Contact
Sherry Hill Catalyst Semiconductor, Inc. 1250 Borregas Avenue Sunnyvale, CA 94089 Phone: +1-408-542-1080
E-mail:sherry.hill@catsemi.com
Web Site:http://www.catsemi.com