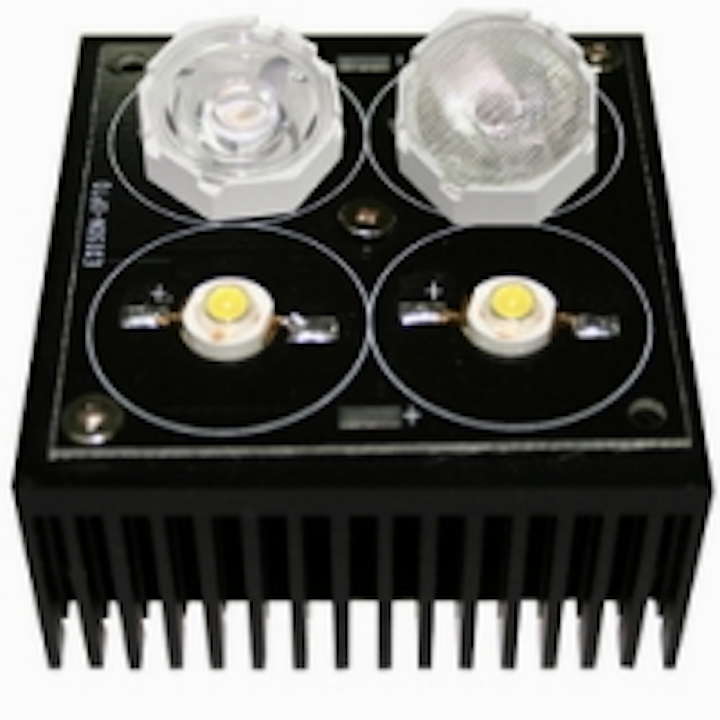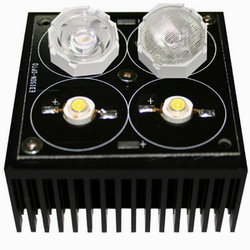 Date Announced: 02 Apr 2006
Edison Opto Corporation is a Taiwan based High Power LED packaging manufacturer, who is dedicated to become the High Power LED total solution provider. Recently Edison successfully developed a thermal solution for a 12W LED module, known as – The Flatbed.
12W LED Module---High Efficient Heat Dissipation within small size.
The size of The Flatbed is 60mm x 60mm x 28mm which is the smallest LED module with such a high efficient heat dissipation in the market.
The Flatbed module includes 4 pcs 3W High Power LED packaged by Edison Opto with a specially designed heat sink. The operating condition is 700mA and 16 V DC. The Flatbed can generate over 400 lm and work with 25 degree and 15x5 degree lenses which will be suitable for some general lighting applications (such as street lamps and flood lights).
Customized Combination of Flatbed
Each Flatbed has specially designed connection ports and clients can combine the Flatbed modules together to match their specific flux and dimensions as required. For example, a 4 pcs Flatbed module combination (module size 120mm x 120mm x 30mm) plus 25 degree lens will reach 235 lux for the 8 meters street lamp application.
Customized Color of 12W LED module
The Flatbed Modules can be supplied in various colors, including white; warm white; red; red-orange; amber; true green; blue; and dental blue.
Edison Opto provides High Power LED total solutions with their advanced knowledge of optical design, thermal management, and circuit design to assist clients with their design of High Power LED applications.
Contact
Edison Opto Corporation Kev Chang Tel: 886-2-8227-6996 ext 192 Fax1: 886-2-8227-6997 Fax2: 886-2-8221-7303 ext 192 Add: 4F,No.800, Chung-Cheng Rd., Chung-Ho City, Taipei, Taiwan.
E-mail:kevchang@edison-opto.com.tw
Web Site:http://www.edison-opto.com.tw