Toshiba white driver IC powers up to 8 LEDs in series
Apr 3rd, 2006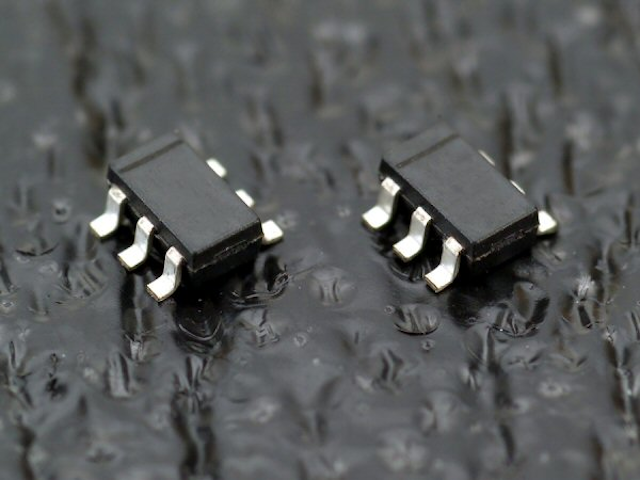 Date Announced: 03 Apr 2006
Marktech has expanded its Toshiba constant-current white LED driver product line with a compact DC/DC converter IC for powering multi-segment white LEDs used to backlight new larger, color LCD panels in small portable devices such as cell phones and PDAs.
The high-precision, high-performance TB62752AFUG white LED driver IC allows designers to save space and reduce component count by using a single device to drive from 2-8 LEDs in series. High output power allows for up to 800mW LED loading, while built-in protection functionality, including a dedicated surge-detection pin, further minimizes the need for external components.
Suitable for use with portable designs based on Li-ion batteries, the TB62752AFUG operates with input voltages from 2.8V to 5.5V and achieves high power efficiency in excess of 80% during seven segment white LED operation. Current precision is guaranteed to within ±5% to ensure uniform LED lighting. Surge detection voltage is rated at 37V.
Integrated protection functionality is designed to accommodate open and shorted LED failure modes without additional components. In the case of an LED open circuit failure, the IC clamps the output voltage to a non-dangerous level for the output transistor. No current will flow through the LEDs and the IC remains undamaged. This operation eliminates the need for Zener diodes traditionally used for such protection. Should an LED short circuit failure occur, the TB62752AFUG ensures that the same current flows through the LED series configuration, with the result that all LEDs, except the failed part, continue to operate. Toshiba's device is based on a BiCD 0.6µm process that combines high withstand voltage, high current capacity Double Diffused MOS (DMOS) technology with high current drive bipolar transistors and CMOS FETs for low power consumption and high integration. Withstand voltage for the part is rated at 40V. Supplied in a SOT23-6 package, the TB62752AFUG has dimensions of just 2.9mm x 2.8mm x 1.3mm, including lead length.
TB62752AFUG Features
• Compact SOT23 Package
• Can Drive 2-8 LEDs in a Series
• High Output Power up to 800mW
• Operating Voltage from 2.8V to 5.5V
• Integrated protection functionality
Pricing & Availability
Pricing for the TB62752AFUG Driver starts at $0.67 in 5K lots depending on package. Toshiba LED Drivers are only available through Marktech Optoelectronics.
Contact
Contact: Carrah Daley Marktech Optoelectronics 3 Northway Lane North Latham, New York 12110 Phone: 800.984.5337 Fax: 518.785.4725
E-mail:c.daley@marktechopto.com
Web Site:http://www.marktechopto.com