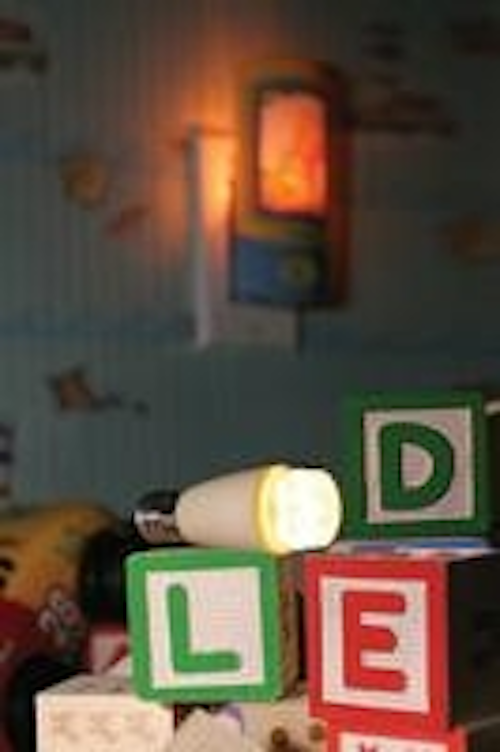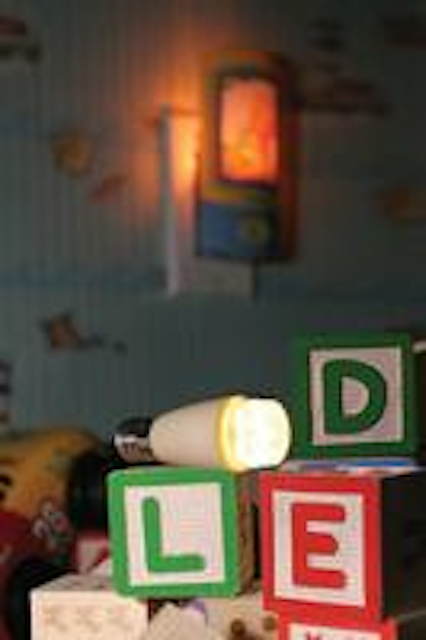 Date Announced: 19 Apr 2006
LEDtronics introduces a new LED Nightlight Bulb — Series LSL464. This advanced LED bulb plugs straight into a commercially available S6 candelabra base 120Volt AC nightlight socket. This long-lasting LED nightlight bulb operates reliably for more than 50,000 hours (5.7 years).
This Warm White LED bulb is energy-efficient, consumes only 0.918 Watts energy compared to 4Watt S6 or 7Watt C7 incandescent bulbs.
LSL464 features six 5mm discrete "Incandescent" White LEDs that together produce a light with plenty of punch. This stylish LED Nightlight bulb measures just 2 inches (50.8mm) in length. It's cool to the touch too so it's safe for office buildings, lunchrooms, bedrooms, hallways, kitchens, and bathrooms — wherever illumination for nighttime or dark enclosures is helpful.
With an average lifespan of 100,000-plus hours (11 years, white LED lifespan averages 50,000 hours) LEDs operate reliably year after year. Solid-state design renders LEDs impervious to electrical and mechanical shock, vibration, frequent switching and environmental fluctuation. LED lamps use only 10% - 20% of the energy consumed by equivalent incandescent lamps that when combined with their maintenance-free operation results in substantial cost savings.
The price for a pack of four LED nightlight bulbs is $19.80. The part number is LSL464-0IW-120A-4PK. Quantity discounts are available. Availability is stock to 4 – 6 weeks for special requirements.
Contact
LEDtronics Toll free at 1-800-579-4875 Telephone 310-534-1505
E-mail:webmaster@ledtronics.com
Web Site:http://www.ledtronics.com/ds/lsl464/