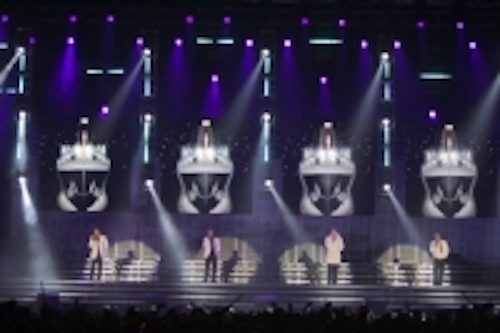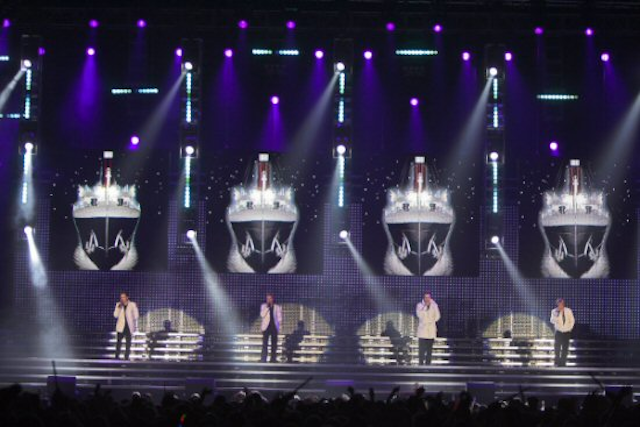 Date Announced: 19 Apr 2006
XL Video UK is supplying Westlife's 2006 "Face To Face" arena tour, which is being artistically directed by Alan MacDonald and Will Baker (renowned for their work with Kylie).
The triple layered video system was designed by Baker and Macdonald – who last worked with Westlife on their multi-screen greatest hits tour three years ago. This time they've gone for a combination of high and low resolution surfaces, with a vast 20 module wall of Barco MiPix upstage. This is divided up into six sections, the centre four of which fly in and out to create different shapes. When in the 'down' position the flying sections join up with the two static offstage sections traversing the whole width of the stage.
In front of this is the second video component – four hangs of XL's new high resolution Lighthouse R16 LED screen, each element measuring 3 modules wide by 4 high in portrait format. These also move - individually – with all the flying and screen automation taken care of by tour rigger Mark Wade.
The third video element again consists of the incredibly versatile MiPix modules, this time fitted to two separate sections of stair backs stretching the full width of the stage.
There are also two 14 x 10 ft Fast-fold side screens fed by Barco ELM projectors.
The screens are fed with a combination of playback and live camera feeds. The onstage screens mostly feature a fast moving collage of colourful, imaginative, witty and emotive material specially commissioned by Baker and MacDonald for the show, and produced by Blink TV.
This is all stored on two 4-channel GV-Techtronics Profile hard drive machines – one feeding the high res surfaces and one the low. They were programmed up by Richard Turner during rehearsals and are run via Dataton receiving timecode triggers from one of the samplers
A mind boggling amount of visual information ranges from Warhol-esque pastiches to animated silhouettes to abstract environmental images like clouds and sea – all of it seamlessly synched with the band's dance routines, putting a completely new and contemporary spin on some classic Westlife songs.
The 4 camera live mix is directed by Billy Robinson, who's also worked on the last two Westlife tours. This year he has the challenge of dealing with four long throw cameras – as the decision was taken to break with the convention of either having close up cameras in the pit or hand-held onstage. There are two of XL's Sony D50's at FOH with 55 mm lenses and two more up in the balcony with 70 mm lenses.
The live feeds only spread onto the onstage screens for three numbers about two thirds of the way through the set, ensuring maximum impact for the effect. The rest of the time IMAG stays on the side screens, while playback sources take centre stage along with the Band.
Robinson mixes from one of XL's OB trucks parked out the back of the venue, using a Sony DVS 72:50 mixer/switcher together with a Sony DME 300 digital effects machine. This slightly unorthodox approach was decided on to reduce the crew's set up time, and it's proving very handy having the PPU pre-assembled and ready to go. It also frees up valuable backstage room for the Band's lightning speed quick-change facilities.
XL is supplying 6 crew including chief engineer Jeroen "Myway" Marain, hi res screen tech Matt Gourd, MiPix tech Brecht Moreels, plus Roger Nelson and Luke and Thomas Levitt.
Contact
XL Video UK Tel. +44 (0)8702 202623
E-mail:info@xlvideo.tv
Web Site:http://www.xlvideo.tv