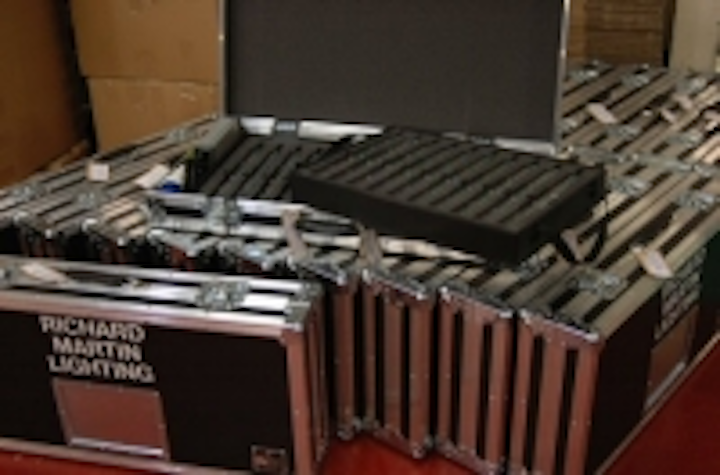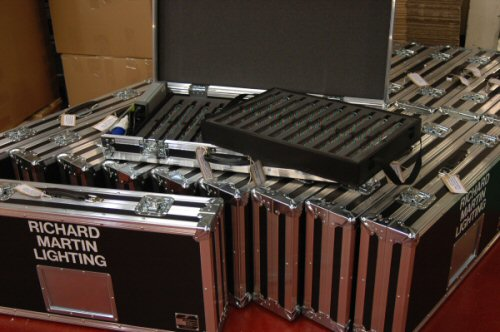 Date Announced: 05 Apr 2006
5 Star Cases has designed and built a series of 20 custom flight cases to house Color Kinetics' new iColor Cove QL LED fixtures, for busy rental company Richard Martin Lighting.
In total, the cases hold 400 strips of iColor Cove. They are based on the popular 'Light Industrial' specification and were designed by 5 Star's Phil Lawrence working to a brief from RML's Steve Wells.
Light Industrial is becoming popular due to its expedient weight – made possible due to the carcass being constructed from 6mm plywood – and the strength is not compromised as the cases use the same basic fittings found on the heavier Industrial specification.
RML's black laminate exterior and full corporate branding were also part of 5 Star's brief. Each case houses 20 iColor units in two areas, one set of 10 in the base while a further 10 in a removable tray. Both areas of the case incorporated CNC routed polyethylene foam inserts, with the necessary geometry produced from samples of the iColor fixtures.
Compartments were also provided in the case for the power supply and connecting cable looms. Due to the relative light weight of the cases, a single leather handle was provided enabling 40 iColor Cove QLs and associated accessories to be easily be carried by one person.
Wells comments, "They are exceptionally robust and well constructed cases, laid out so any missing elements are immediately noticeable. The long brief case size also makes them extremely portable".
The new cases and fixtures went straight out on two TV productions - ITV's popular games show "Family Fortunes" and "No Strings Attached".
RML uses 5 Star for many of its flight case requirements, and has recently added another twelve 5 Star trunks to the hire inventory to house the new Martin MAC 700 moving lights.
Contact
5 Star: +44 (0)1945 427000 www.richardmartinlighting.co.uk
E-mail:info@leds.iop.org
Web Site:http://www.5star-cases.com