NeoPac Lotus Pro heralds new era of LED general lighting with dynamic RGB colors
Apr 10th, 2006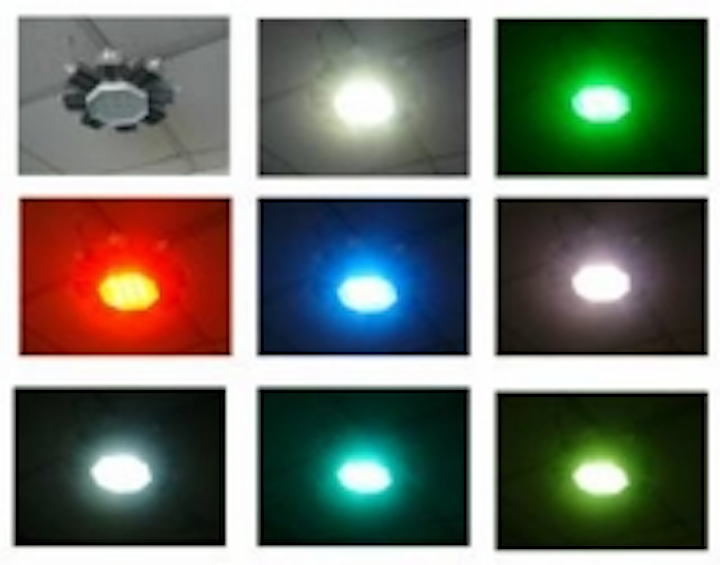 Date Announced: 10 Apr 2006
-- Flagship NeoBulb™ Combo Series "Lotus Pro" 54 watts and RGB mixing white at 1,350 lumen for bright illumination, single and multicolour lighting display
Leading the way in ultra-high-power LED light engine, NeoPac Lighting is launching its new flagship product - the NeoBulb™ Combo Series "Lotus Pro" that provides high brightness RGB mixing white as well as RGB variable colors for general lighting.
At the forefront of solid-state lighting, NeoPac is the first for single packaging design of 8 power LED chips on its NeoPac™ Emitter, which enables the "Lotus Pro" to achieve the RGB mixing white for general illumination.
The "Lotus Pro" thus opens up new possibilities with its dynamic colors, chromatic variation displays, and high-brightness output of white lighting for applications in household, office, commercial, and landscaping settings.
It comes with 9 (3 x 3) LED point-light-source NeoBulb™ Light Engines in a striking octagonal design, the best optimum configuration of the 9 thermal modules for efficient heat management.
Outfitted with the proprietary NeoPac™ Emitter of 8 LED power chips (RRGGGGBB), each of the "Lotus Pro" NeoBulb™ Light Engine operates at 6 watts, and giving the whole system at 54 watts to offer up to 1,350 lumen white lighting for general illumination.
It is capable of producing single color lighting for red, green, blue, yellow, and amber, and also mixed colors at high lumen output.
For warm white and cool white lighting (at over 4,000 K), the "Lotus Pro" can provide total brightness output at up to 1,300 lumen and is the top of the class for current RGB LED general lighting products.
To suit the desired lighting effect and ambient mood, users can change the RGB variable setting to bright single color or transitional color display by the switching mechanism of the custom-made control panel.
CEO of NeoPac Lighting Jeffrey Chen stated that, "From a technology point of view, this is a unique product in the world. We are the first capable of packaging 8 LED power chips on our NeoPac™ Emitter for RBG variable lighting."
"Lotus Pro can be used for general lighting. But it is powerful enough not only for illuminating offices and homes," as he indicated, "It also has the dynamic RGB colors for audio-visual lighting and commercial applications, and for new lifestyle mood lighting. This is the first RGB variable color product for the general lighting mainstream market," said Chen.
He explained the ultra-high-power output is achieved with NeoPac's efficient thermal management technology, "We can control the RGB chips junction temperature (Tj) inside NeoPac™ Emitter at only 55℃,with the ambient temperature (Ta) at 25℃. It is a crucial issue for keeping the RGB juncion temperature at such low level since the decay rate of blue, green and red chips are quite different at high junction temperature. It is the hurdle for high power RGB package application for general lighting."
The 54-watt "Lotus Pro" RGB is the latest from the NeoBulb™ Combo series by NeoPac Lighting. Other NeoPac RGB LED lighting products from the Combo series include the "Array Pro" with 10 NeoBulb™ Light Engines, the "Line Pro" with 6, and " Ring Pro" with 8 Light Engines.
All these NeoBulb™ Combo series RGB lighting have strong durability, long functional life at over 50,000 hours, and energy saving at over 60 percent more energy efficient than existing incandescent and fluorescent bulbs.
In addition, Chen states that NeoBulb™ Combo series are also "green products" with RoHS compliance, in conforming to new EU and other international standards on material containing lead and mercury.
Contact
Jeffrey Chen President, NeoPac Lighting, Inc. Tel: +886-3-558-3620 ext. 201 Fax: +886-3-558-6909
E-mail:jchen@neopac-lighting.com
Web Site:http://www.neopac-lighting.com