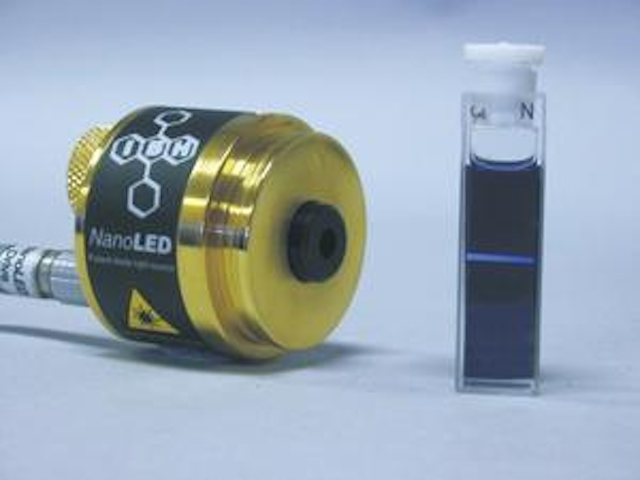 Date Announced: 19 Jul 2006
HORIBA Jobin Yvon has added an even shorter wavelength to its award winning range of pulsed NanoLED sources (laser diodes and LEDs). The NanoLED-265 emits deep ultraviolet pulses at a nominal wavelength of 265 nm, nominal pulse width of 1.2 ns, spectral FWHM of nominally 15 nm, all with miniaturised packaging and simple turn-key operation.
NanoLEDs are ideal excitation sources for use in TCSPC based fluorescence lifetime measurements, and this new deep UV diode is particularly well matched to important fluorophores such as phenylalanine as well as aromatic hydrocarbons for environmental studies.
The NanoLED-265 features adjustable optics and a gold plated enclosure to ensure suppression of radio frequency noise. The new source is fully plug-and-play compatible with existing NanoLED controllers and all types of TCSPC based lifetime systems. The bench-top driver module features controls for repetition rate and synchronisation delay, as well as comprehensive synchronisation options. A unique microprocessor controlled driver card is also available for OEM applications.
Contact
Chris Kemp - +44 (0) 20 8204 8142
E-mail:info@jobinyvon.co.uk
Web Site:www.jobinyvon.co.uk