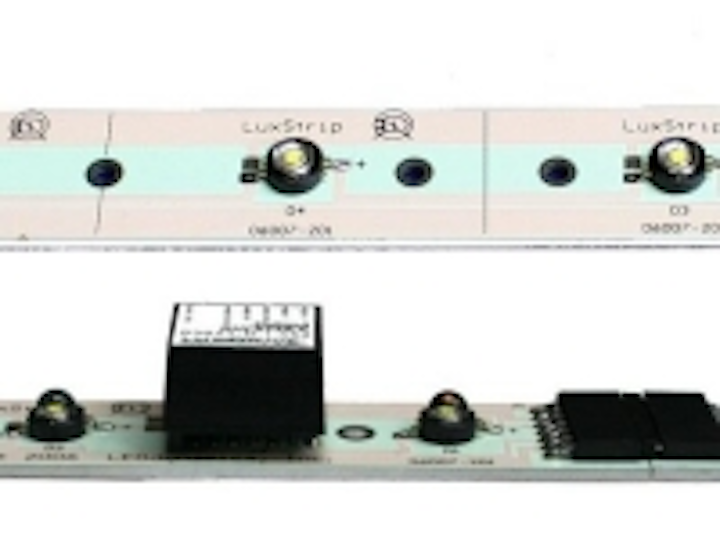 Date Announced: 26 Jul 2006
Randolph, Vermont - LuxDrive, a leading manufacturer of constant current drivers for LEDs, has released a high-brightness LED linear light engine with driver on board capable of delivering greater than 600 lumens per foot.
The LuxStrip 6007 is a powerful, compact light engine built on a metal core PCB and thermally engineered to accommodate high brightness LEDs. Utilizing driver on board technology allows the entire unit to easily be integrated into fixtures where space is at a premium.
The LuxStrip 6007 is a perfect solution for applications such as general lighting applications, fluorescent replacement, sign or channel letters, or architectural lighting applications. As a standard offering at 12-inch the LuxStrip 6007 comes with up to six LUXEON devices. Strips can be cut to specific lengths, as short as 3 inch.
The strips are designed to interconnect to allow for varying lengths, and can be and can be deployed to lengths of up to 12 feet. Optics are available for directional lighting. Standard options are 5, 15, and 25 degrees and diffuser options and may be added to suit custom applications.
The product was a culmination of projects developed by the LuxDrive OEM Integration division. Consistently customers were requesting a 1 watt to 6 watt linear light engine that incorporated LED drivers and thermal management. The requirements for lumens output varied but the need for a linear application was consistent.
LuxStrip was designed to use the 3021 LuxDrive BuckPuck (step down) and 4015 BoostPuck (step up) constant current drivers. Using the BuckPuck, it can be driven from 24 Volts DC at 350mA, 500mA, 700 mA, 1 Amp, or 1.1 Amp. In the Boost version the strip can be driven at 350mA from voltages as low as 10 Volts DC.
About LEDdynamics
LEDdynamics is the manufacturer of LuxDrive and provides technology, services, and education that enables and accelerates the adoption of LEDs as a medium of illumination. LuxDrive is a line of Power Modules for Light Emitting Diodes, providing constant-current regulation to LEDs and simplifying design of LED products. LuxDrive manufactures the industry's smallest constant current LED drivers. Included in the product line is the BuckPuck, the smallest multiwatt dimmable driver currently available.
Contact
Mason Alling, Director of Sales and Marketing LEDdynamics, Inc. Tel. +1 (802) 728-4533
E-mail:malling@LEDdynamics.com
Web Site:http://www.luxdrive.com