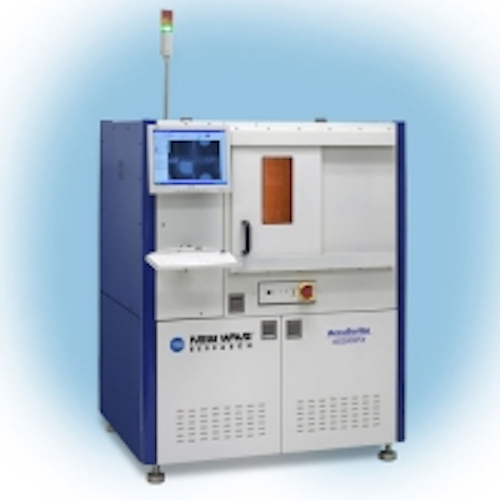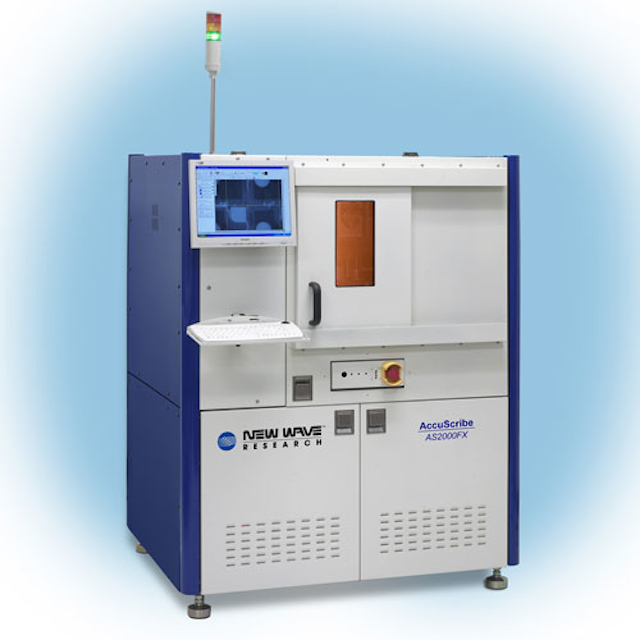 Date Announced: 20 Jul 2006
New Wave Research Introduces Ruggedized, High-Speed Wafer-Scribing System
-- The AccuScribe AS2000FX slashes operating costs with 10-WPH throughput and is optimized for demanding 24/7 environments
Fremont, Calif., July 18, 2006 — New Wave Research, a leading manufacturer of laser-based systems for flat-panel display repair, semiconductor failure analysis and micromachining, today announced the AccuScribe AS2000FX, the next generation of its acclaimed diode-pumped, solid-state (DPSS) wafer-scribing systems.
Key to the AS2000FX is its up to 10 wafer-per-hour throughput; this will significantly reduce operating costs in a full range of LED wafer-scribing applications.
Furthermore, the system features an exceptionally rugged and customizable platform; it is optimized for reliable, 24/7 operation in the most demanding customer environments.
"We are very pleased with the newest addition in our AccuScribe family of products," said Kenan Chen, director of product marketing with New Wave Research. "The technical capabilities of the AS2000FX provide the flexibility our customers need to increase productivity — and thereby reduce manufacturing costs."
The AS2000FX achieves its high-speed performance via the latest in high-efficiency, high-stability, UV DPSS laser technology and New Wave Research's advanced optical and image-processing technologies. Its industrial platform provides four-inch wafer support capability and is easily customized for various customer requirements.
In addition, the platform provides many advanced features to enhance customer work efficiency. These include a highly accurate, repeatable and reliable X-Y stage, user-selectable energy output with stability feedback loop, advanced debris removal system and many other options to increase ease of use and productivity.
Other performance-enhancing features include a patented wafer-edge detection system that enables the operator to scribe every inch of precious wafer real estate and scribe partial or broken wafers — very important to customers as it dramatically increases their yields.
Also, backside alignment capability — another feature unique to the AccuScribe — enables scribing from the backside of wafers when opaque wafer materials make topside alignment and scribing impossible. A single operator can easily perform all scribing operations; this is assured via an intuitive and easy-to-use LCD-screen GUI, adjustable LCD panel and an industrial-grade computer system.
Established in 1990, New Wave Research is a global leader in the development of high-quality lasers and laser-based systems for the microelectronics and analytical instrumentation industries. The company manufactures lasers for wafer scribing, flat-panel display repair, semiconductor failure analysis, micromachining, particle image velocimetry, laser ablation/solid sampling for ICP/ICP-MS, laser-induced-breakdown spectroscopy (LIBS) and general-purpose lasers for OEM and scientific applications.
Contact
New Wave Research, Inc., 48660 Kato Rd., Fremont, CA 94538, USA Tel. +1 (510) 249-1550
E-mail:lasers@new-wave.com
Web Site:http://www.new-wave.com