Daktronics supplies LED screens to Vancouver Canucks arena
Jul 27th, 2006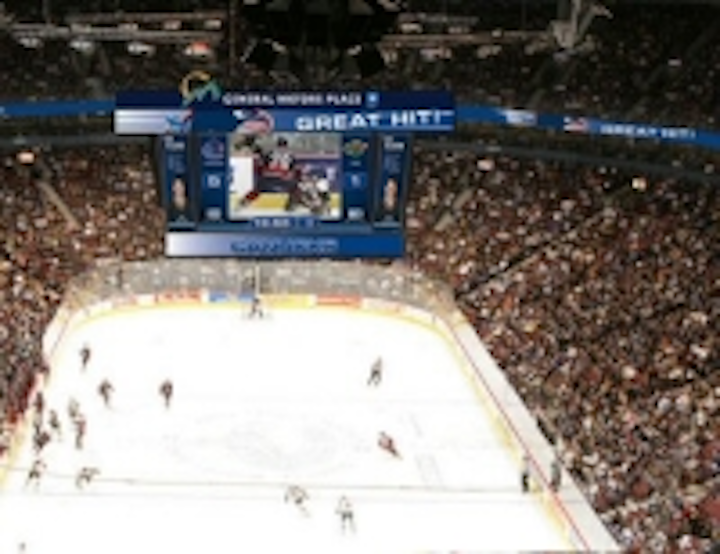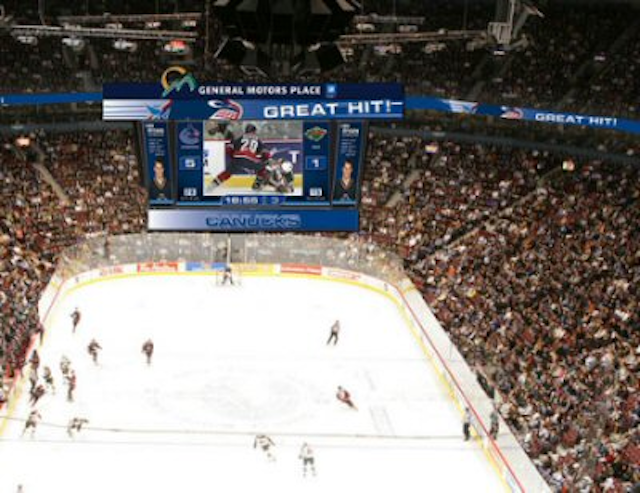 Date Announced: 27 Jul 2006
DAKTRONICS AND ORCA BAY SPORTS & ENTERTAINMENT ANNOUNCE MAJOR UPGRADE TO VANCOUVER'S GENERAL MOTORS PLACE
BROOKINGS, S.D. - July 26, 2006 - Daktronics Inc. (Nasdaq: DAKT) and Orca Bay Sports and Entertainment announced today a multimillion dollar enhancement to Vancouver's General Motors Place, which will replace the existing scoring and video display system with an integrated Daktronics super system. General Motors Place is one of the most active sports and entertainment venues in North America, and is the home of the Vancouver Canucks of the National Hockey League.
"Orca Bay Sports and Entertainment is extremely pleased to announce the integration of a new video display system and ribbon board for the start of the 2006-07 NHL season," said Harvey Jones, Vice President and General Manager, Arena Operations, Orca Bay Sports and Entertainment. "We have extensively searched for a new system that provides the utmost in clarity and excitement. The integration of our new system will be unmatched by any other NHL venue in North America, helping to provide our fans with the ultimate sports and entertainment experience."
The centerhung design incorporates Daktronics high resolution ProStar® light emitting diode (LED) technology with picture elements (pixels) on 10 millimeter (.39") center-to-center spacing. Each of the four main video displays will measure approximately 14 feet high by 24 feet long, with Pure Pixel® resolution exceeding 300,000 pixels per screen. The main video screens have a width to height ratio that matches the high definition (HD) standard 16:9 aspect ratio.
Flanking each main video display are additional full-color LED displays to present game scores, times and statistics. Each will measure approximately 13 feet 6 inches high by 5 feet wide. Large circular ProAd® displays will be suspended above and below the main video screens. The top ProAd® display will measure approximately 3 feet high by 149 feet in circumference; the bottom display approximately 3 feet high by 104 feet in circumference.
One of the largest LED fascia displays will be installed in front of the 300 level of seating, surrounding the seating bowl. The display will measure over two feet high and more than 950 feet in circumference. This ProAd® display, along with those incorporated into the centerhung scoreboard design, provides complete flexibility compared to traditional printed or scrolling displays. When not showing exciting graphics, animation, video clips, stats, or out-of-town game scores, advertisers will be highlighted on ProAd® full-color LED technology with vibrant color, attention grabbing motion and interactive promotions and messages.
Installation of the new system at General Motors Place is scheduled for completion prior to the start of the 2006-2007 National Hockey League (NHL) season. This will be the 20th NHL facility to use Daktronics equipment, and the sixth Daktronics super system installation, incorporating video, scoring and information display functions on multiple displays, in an NHL venue. Other NHL venues with Daktronics super systems include American Airlines Center, home of the Dallas Stars; Bell Centre, home of the Montreal Canadiens; Continental Airlines Arena, home of the New Jersey Devils; Glendale Arena, home of the Phoenix Coyotes; and Xcel Energy Center, home of the Minnesota Wild.
ProStar® video display technology, HD-ready and available only from Daktronics, uses the latest in full-color red, green and blue (RGB) LED technology to present live and recorded video images, colorful animation and vivid graphics with incredible brightness and wide angle visibility. ProStar® LED video display technology offers a long lifetime with minimal maintenance and low power consumption, providing value and excitement for years to come. ProStar® and ProAd® display technology are the leading large screen LED solutions for sports and entertainment venues worldwide.
Daktronics began manufacturing large screen, full-color LED displays in 1997. Since then, over 2,500 ProStar® and ProAd® full-color displays have been sold and installed in sports, entertainment and commercial applications worldwide. Since 2001, independent market research from iSuppli Corp. lists Daktronics as the world's leading provider of large screen LED video displays. The Daktronics control system at General Motors Place will include the proven Venus® 7000 controller, V-Link® video processor, All Sport® scoreboard controller and DakStats® computerized statistics system.
About General Motors Place
In addition to being home to the home to the Vancouver Canucks, General Motors Place is one of the most active and versatile entertainment venues in North America. Since opening in September 1995, GM Place has attracted the biggest names in show business to its stage and has welcomed more than 15 million visitors through its doors. In all, General Motors Place hosts approximately 100 events each year. Additional information on this unique sports and entertainment venue can be found online at http://www.canucks.com/subpage.asp?sectionID=180.
About Daktronics
Daktronics has strong leadership positions in, and is one of the world's largest suppliers of, electronic scoreboards, computer-programmable displays, and large screen video displays and control systems. The company excels in the control of large display systems, including those that require integration of multiple complex displays showing real-time information, graphics, animation and video. Daktronics designs, manufactures, markets and services display systems for customers around the world, in sport, business and transportation applications. For more information, visit the company's World Wide Web site at http://www.daktronics.com/, e-mail the company at sales@daktronics.com, call (605) 697-4300 or toll-free (800) 325-8766 in the United States or write to the company at 331 32nd Ave. PO Box 5128 Brookings, S.D. 57006-5128.
Contact
Mark Steinkamp at Daktronics Tel. +1 605-697-4300 Ben Brown, Vancouver Canucks Media Relations Manager 604-899-4609 bbrown@orcabay.com
E-mail:msteink@daktronics.com
Web Site:http://www.daktronics.com