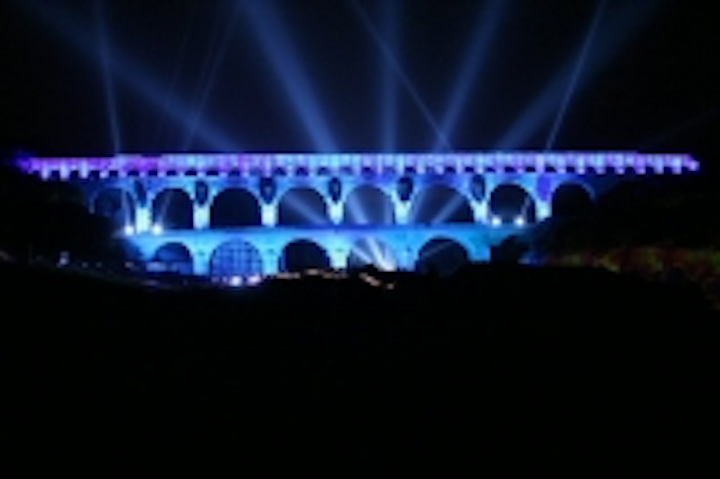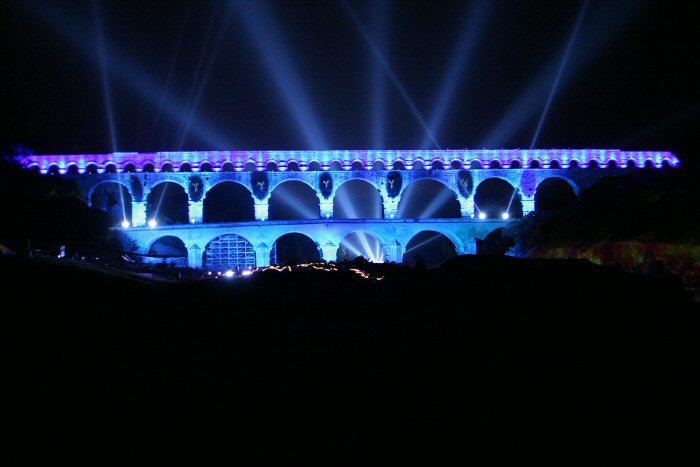 Date Announced: 11 Jul 2006
Le Pont du Gard is a very old and famous roman aqueduct which spans the Gardon River in Southern France. It has stood the test of time for 2000 years and is now one of the major tourist attractions in France, second to only the Eiffel Tower.
French company Group F, who were responsible for the fireworks in the opening ceremony of the Turin Olympic winter games - were asked to design a 20 minute spectacle encompassing the structure featuring lighting, video, fireworks and music.
68 PixelLine 110s and 12 PixelBricks were installed on the third level of the bridge and eight PixelLine 1044s were installed on the ground. The PixelRange luminaires were so bright that they had to be dimmed to 70% in order to match the colours of the other lighting fixtures!
The spectacular show was shown in all its glory against the blackened sky and such a success that another one is already in production for June 2007. Although next time the designers plan to use only PixelLines between 150 – 180 fixtures!
All the lighting was supplied by Montpellier based Texen and the extra PixelLines were sub hired from the Waldeck Organisation Aix en Provence.
Contact
Jane Monk MonkeyBiz Marketing Management Tel. +44 (0)7814 604667
E-mail:jane@monkeybizlimited.com
Web Site:http://www.pixelrange.co.uk