Vishay launches 128x32 LED graphics display with drive electronics
Jul 14th, 2006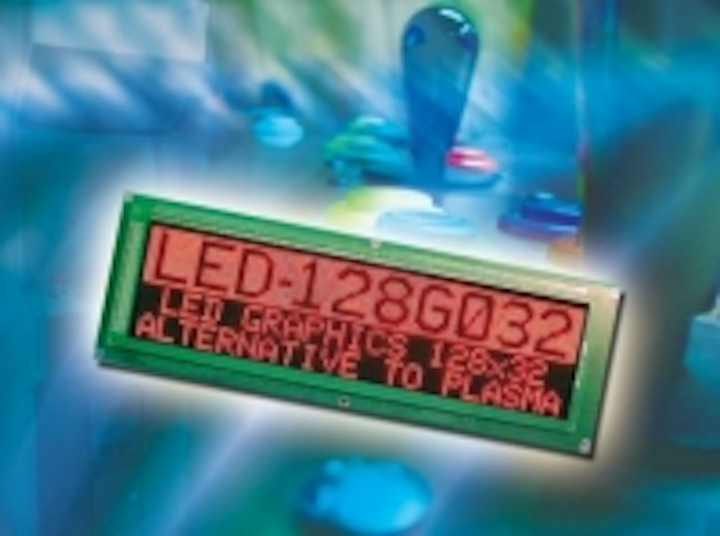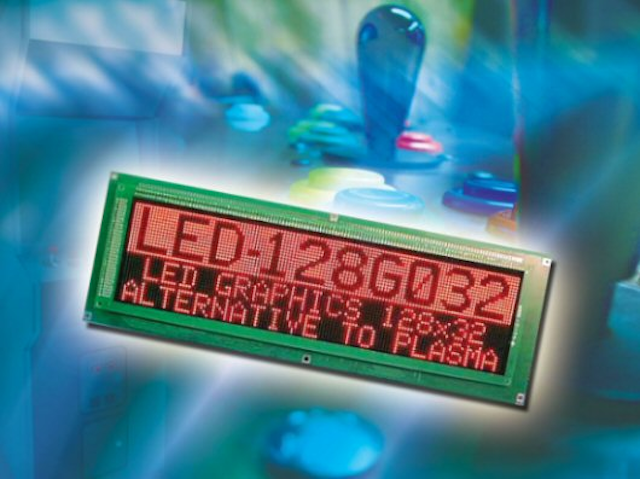 Date Announced: 14 Jul 2006
Vishay Offers Industry's First 128 x 32 LED Graphics Display with Drive Electronics and +5-V HC CMOS-Level Video Interface
New LED Display Designed as a Solid-State Alternative to Popular Plasma Displays
MALVERN, PENNSYLVANIA — July 12, 2006 — Vishay Intertechnology, Inc. (NYSE: VSH) today announced the industry's first 128 x 32 LED graphics display with drive electronics and +5 Volt HC CMOS-level video interface. Designed as a drop-in compatible replacement for the popular APD-128G032 plasma display module, the LED-128G032 is designed to offer high brightness and superior viewing characteristics in a slim package.
The LED-128G032 LED has four times the life of a plasma display, reducing maintenance and replacement costs. With a 12.75-in. x 3.15-in. viewing area, the LED display is optimized for low- to medium-level information content and is suited for applications such as arcade games, process control, POS terminals, medical equipment, message centers, and automatic teller machines (ATMs).
Featuring a very low 17.78-mm profile, the LED-128G032 LED display emits a brilliant orange color. The display has large 16.51-mm x 11.43-mm characters for long distance readability, offers a high contrast ratio of >30:1, and provides a wide viewing angle of >150°.
Samples of the new LED display are available now. Production quantities will be available in 12 weeks with lead times of 12 weeks for larger orders. Pricing for U.S. delivery is as low as $259 in OEM volume quantities.
Vishay Intertechnology, Inc., a Fortune 1,000 Company listed on the NYSE (VSH), is one of the world's largest manufacturers of discrete semiconductors (diodes, rectifiers, transistors, and optoelectronics and selected ICs) and passive electronic components (resistors, capacitors, inductors, sensors, and transducers). Vishay's components can be found in products manufactured in a very broad range of industries worldwide. Vishay is headquartered in Malvern, Pennsylvania, and has operations in 17 countries employing over 26,000 people. Vishay can be found on the Internet at http://www.vishay.com.
Contact
THE AMERICAS: Neal Kratochvil, Columbus, NE, USA Tel: +1 (402) 563-6308; Fax: +1 (402) 563-6565 EUROPE: Jens Walther, Selb, Germany Tel: +49-9287-71-2282; Fax: +49-9287-71-2496 jens.walther@vishay.com ASIA/PACIFIC: Victor Goh, Singapore Tel: +65-788-6668; Fax: +65-788-3383 victor.goh@vishay.com
E-mail:neal.kratochvil@vishay.com
Web Site:http://www.vishay.com