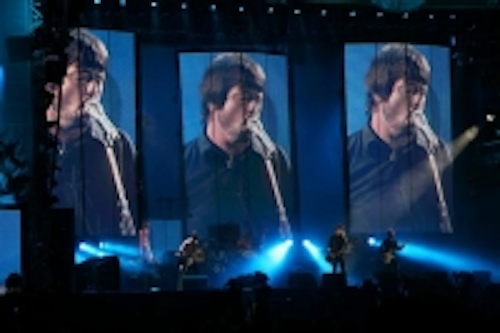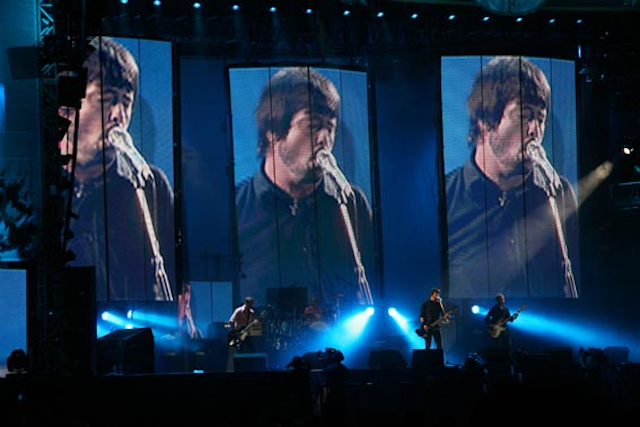 Date Announced: 14 Jul 2006
Foo Fighters fans at London's Hyde Park and the Father's Day gig in Manchester, UK rocked on to Dave Grohl and his band's high-energy performance. The sun blazed and temperatures soared, but none of the action from the Foos or support bands Motorhead, Queens of the Stoneage, Angels & Airwaves and The Subways was lost on XL Video's Lighthouse R16 16mm LED video screens.
Three curved columns in a 4 x 9 panel configuration graced centre stage, along with various other ground stacked curved screens – an impressive 160 panels of Lighthouse R16 in total.
"The most complicated thing about this was that there was an overnight from Hyde Park up to Manchester," explains Phil Mercer, XL Video project manager for music and live events. "The screen needed to be quick and easy to set up and also lightweight because of limited weight loading on the stage. Lighthouse was the only screen that could do it all."
Processing was via Lighthouse LIP KXs and Snell & Wilcox supervisors. "There was one processor per screen," continues Mercer. "This was necessary because at times the central screens made up one large image and at other times individual images were fed to each screen. The whole thing had to be very flexible – it was a complete matrix with content dependent on what the video director was routing to where at any given time in the show, and included a combination of Catalyst playback, a lot of camera footage and special effects."
Video direction was the joint responsibility of lighting designer Nathan Wilson and video director Rob McShane, both of whom were at the front of house position. Wilson developed the original concept for the curved shape of the screen which was taken to XL's designers to be translated into reality. "We're well known for being able to cope with unusual configurations," adds Mercer. "We custom build most of the metal work for our screens, and can accommodate many idiosyncratic or off-beat requests, like the tracking screens currently out on Depeche Mode (video directed by Blue Leach) which are also R16.
"This is a very busy time for LED generally because of the World Cup, but we've made sure that we've kept our panels within the music market as that's our core business. Currently, we have over 250 square metres of Lighthouse R16 in stock" says Mercer.
"It's great to have a rental partner such as XL Video investing in our screens," says Lighthouse UK and Northern Europe sales manager Simon Taylor. "It's a real testament to the suitability of R16 for the touring market."
About Lighthouse Technologies
Lighthouse Technologies Limited is a leading LED technology developer, manufacturer and global supplier of state-of-the-art LED modular video panels, which can be assembled into large scale video screens for indoor and outdoor use. Specializing in the research and manufacture of LED video screens, Lighthouse has its own intellectual properties with more than 10 active patents worldwide and is committed to remain as the premier creator of intellectual property value.
The company's LED components, panels and complete video systems undergo stringent quality control with power-on, burn-in processes at ISO 14001 and ISO 9001-certified manufacturing plants. Its products have won several international awards, among them, the IBC Exhibition Design Award 2005, the Best-In-Show Award at InfoComm 2005, the Best New Product Award at the National Association of Broadcasters 2002 (NAB) show and the Good Buzz award at InfoComm 2004. Lighthouse also received the Technological Achievement Certificate of Merit in the 2003 Hong Kong Awards for Industry as well as the Consumer Product Design Award and the HKITCC Certificate of Merit in Technological Achievement in the 1999 Hong Kong Awards for Industry. Lighthouse was also recognized as one of the Fastest Growing Technology Companies in the 2002 Deloitte Technology Fast 250.
Lighthouse operates worldwide, through sales offices and technical support teams in the United States, Canada, South America, the United Kingdom, Continental Europe, Africa, the Middle East and Asia Pacific. For more information, please visit www.lighthouse-tech.com.
Contact
Kit Liang, Tel: +852 2192 1670 Pearly Ang, Tel: +852 2192 1672 Email: pang@lighthouse-tech.com Lighthouse Technologies Limited, Suites 531-537, Building 2, Hong Kong Science Park, Shatin, N.T., Hong Kong
E-mail:kliang@lighthouse-tech.com
Web Site:http://www.lighthouse-tech.com