Philips unveils Affinium LED 'lighting on a string' kits
Oct 13th, 2006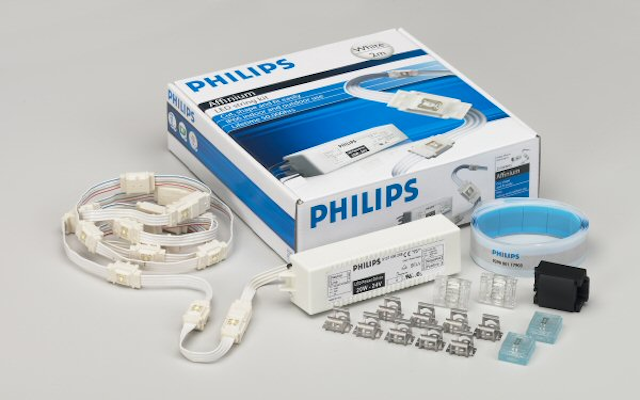 Date Announced: 13 Oct 2006
-- Philips Lighting's easy-to-fit Affinium LED String Kit forms innovative 'lighting on a string' for architectural and decorative applications
Royal Philips Electronics (AEX: PHI, NYSE: PHG) :Philips Lighting's new Affinium LED String Kits provide an advanced yet simply installed lighting system. Highly innovative and attractive architectural and decorative effects can be achieved with ease.
The very robust LED String devices, intended to replace existing GLS, halogen and TL solutions, provide many benefits. These include great design freedom, application flexibility and energy saving. Other important advantages include a high quality light output in various bright, pure colours, plus white – all with a very long life.
The LED String greatly benefits lighting designers who have significant freedom for innovation. They can provide light just where it is wanted, over any required length and in highly innovative schemes. To take just one example, light can be introduced into very narrow gaps where use of TL lamps, for example, would not be possible because of their size.
Life is also made very easy for the installer. Each Kit comprises LEDs fitted at intervals on 'strings' made from flexible cable, with all necessary fixings and driver module. Importantly, this 'plug and play' aspect ensures fast and easy installation, so saving installer and end-user time and money. Fixing really is quick and flexible – the LED Strings, in 2 or 6m lengths, may be cut and adapted to fit virtually any shape, including tight curves, and can be screwed down or simply taped to any suitable surface. Well-illustrated instructions make installation even easier.
The varied applications for the Kits include cove, shelf and stairway lighting. However, there are also many decorative possibilities, only limited by lighting designers' imaginations. Also, the LED Strings are water and dust ingress protected to IP66, so are ideal for use indoors and out. This really is lighting 'flexibility in a box'.
Good luminance uniformity is a feature, and the available colours are red, green, blue, amber and cool white (w6300). Warm white will be available from the end of 2006. As LEDs have very long lives, typically lasting up to 100 times longer than incandescent lamps, the LED Strings will often outlast the application. Therefore, downtime and maintenance will be minimal. The operating voltage is 100 – 240V mains and, in addition to the 2 and 6m Kit String lengths provided, 20m lengths are available on a reel.
Today, the cost of energy is rising all the time, as is its price in terms of global warming, so the fact that the Affinium LED String Kits use little energy is important. Power consumption is approximately 4W/m length, and energy savings up to 80% are achievable over conventional lighting. In keeping with Philips' 'green' credentials, the Affinium LED String Kits are lead and mercury free and are therefore RoHS compliant.
About Royal Philips Electronics
Royal Philips Electronics of the Netherlands (NYSE: PHG, AEX: PHI) is a global leader in healthcare, lifestyle and technology, delivering products, services and solutions through the brand promise of "sense and simplicity". Headquartered in the Netherlands, Philips employs approximately 125,500 employees in more than 60 countries worldwide. With sales of EUR 30.4 billion in 2005, the company is a market leader in medical diagnostic imaging and patient monitoring systems, energy efficient lighting solutions, personal care and home appliances, as well as consumer electronics.
Contact
Philips Electronics
Web Site:http://www.philips.com/newscenter