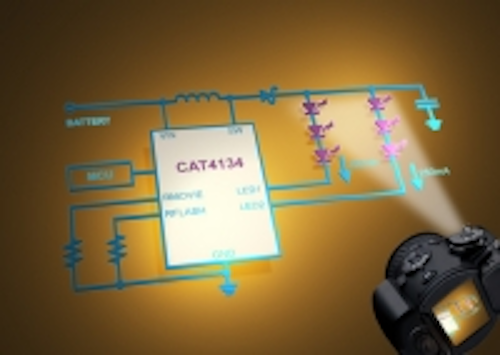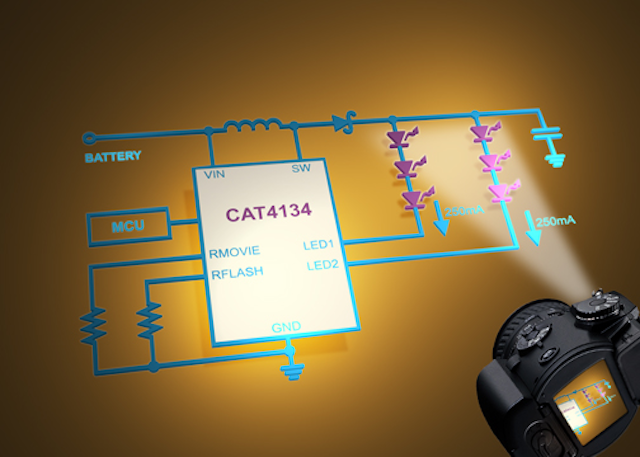 Date Announced: 23 Oct 2006
SANTA CLARA, Calif., October 21, 2006 – Catalyst Semiconductor, Inc. (NASDAQ:CATS) a supplier of analog, mixed-signal and non-volatile memory semiconductors, today announced the availability of a high power, 500mA inductive boost LED driver for Movie/Flash mode applications. The new CAT4134 offers a fully integrated Movie/Flash switching function which allows designers to set the exact Flash and Movie modes required via a single resistor, minimizing the need for external circuitry. Capable of driving up to six white/color LEDs, the CAT4134 is ideal for increasing efficiency and simplifying the design of industrial video lighting, still camera, flashlight, LCD backlighting and other high-power LED applications.
The new Catalyst inductive boost LED driver offers dual channel outputs which provide matched LED currents of up to 500mA total. Output current levels are controlled by one of two resistors RSET or RFLASH. When the flash input pin is low (Movie mode), RSET controls the LED current. When the flash input pin is high (Flash mode), the resistor RFLASH controls the LED current. Each channel drives two or three white LEDs in series and provides a regulated current to control LED brightness. Input supply down to 3V is supported, making the device ideal for Li-Ion battery applications.
High frequency, low noise operation allows the CAT4134 to be used with small external inductors and ceramic capacitors while retaining excellent efficiency (up to 85 percent), making it a good choice for space and power-constrained applications.
When disabled the device can be placed into a "Zero" quiescent mode via a shut-down pin, eliminating battery drain when not in use. In addition to soft-start control and current limiting, the CAT4134 offers protection against short-circuit and thermal overload fault conditions. A dedicated over-voltage protection pin (OVP) allows users to set the maximum operating voltage at the output.
According to Scott Brown, Vice President of Marketing for Catalyst Semiconductor, "We are announcing the CAT4134 inductor-based LED driver very quickly after our most recent charge pump device, the Quad-Mode(tm) CAT3636, underscoring our commitment to offer an extensive range of LED driver technologies. Each customer has unique system design goals, therefore Catalyst's strategy is to offer both inductor-based and charge pump options to provide the best solution for our customers' specific application requirements."
CAT4134 Product Features
- Movie and Flash mode operations
- Fully integrated, adjustable control of Movie/Flash LED Current
- Output channels drive 2, 3, 4 or 6 LEDs
- High LED current (250mA max per channel)
- Power efficiency up to 85 percent
- 12-pin TDFN 3mm x 3mm package
Price and Green Package Availability
The CAT4134 is available in a 3x3mm, 12-pin TDFN RoHS-compliant package. Plated lead finish is matte tin. The ordering code is CAT4134HV2 and pricing for 10,000 piece quantities is $0.88 each. Samples and evaluation kits are now available. Projected lead-times for production quantities are currently 6 to 8 weeks ARO.
About Catalyst Semiconductor
Founded in 1985, Catalyst Semiconductor, Inc. is headquartered in Sunnyvale, California. The Company produces analog and mixed signal products in addition to an extensive range of nonvolatile memories. The analog and mixed-signal product lines include Digitally Programmable Potentiometers [DPP(tm)], white and color LED drivers, DC/DC converters, voltage supervisors, linear regulators, and I/O expanders. The memory product lines consist of serial and parallel EEPROMs, Flash, and NVRAM. Catalyst devices are used in telecommunications, networking systems, computing, automotive, industrial and consumer markets. Typical applications include LCD displays, automotive instrumentation, optical networks, modems, wireless LANs, network cards, DIMM modules, cellular telephones, digital satellite box receivers, set-top boxes and Internet routers. Catalyst's Quality Management System is ISO 9001:2000 certified. All Catalyst products are available in "green" lead- and halogen-free versions with full RoHS compliance. For additional information about Catalyst Semiconductor, visit our website at: www.catsemi.com.
Contact
Sherry Hill Catalyst Semiconductor, Inc. Telephone: 408-542-1080 Fax: 408-542-1200
E-mail:sherry.hill@catsemi.com
Web Site:http://www.catsemi.com