NeoPac launches complete LED Outdoor Lighting Devices
Oct 23rd, 2006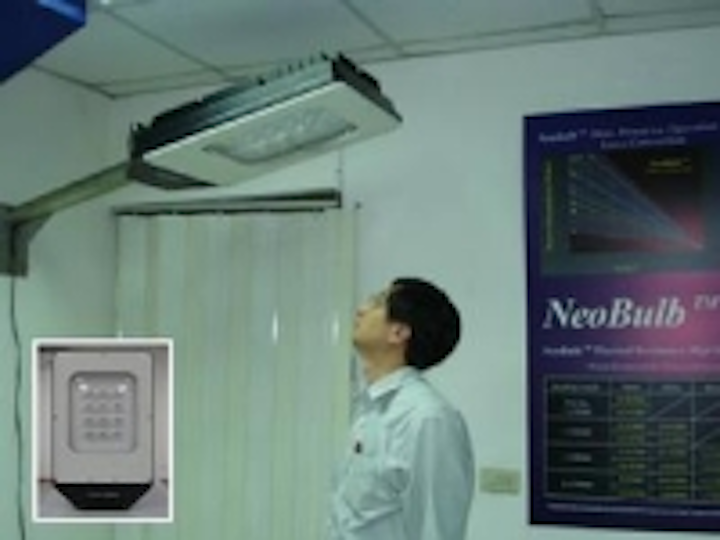 Date Announced: 23 Oct 2006
Completing a series of product launch on ultra-high-power LEDs Light Engine as well as Indoor Lighting Devices, NeoPac Lighting is going to launch a full series of ultra-high-lumen brightness Outdoor Lighting Devices this month for the booming LEDs general lighting market
Demonstrating brand-new approaches for ultra-high power LEDs Outdoors Solution, NeoPac is presenting the four standard models of mono-color (White/Blue/Green/Red) lighting and RGB mixing devices to suite a wide range of commercial and architectural applications
From the basic floodlight unit to the top-end Street Light, the complete series of LEDs Outdoor Lighting Devices are: - 10 Watts Bulb, 40 Watts Bar, 60 Watts Line, and 120 Watts Array
For the same set of outdoor lighting products, their RGB counterpart devices are at 6 Watts Bulb Pro, 24 Watts Bar Pro, 36 Watts Line Pro, and 72 Watts Array Pro
Outfitted with the proprietary NeoPac Emitter, their output ranges from about 400 lumens (10 Watts) all the way to 5,000 lumens (120 Watts)
These are among the best brightness and power dissipating rating for the same range of LED products in the industry
"The engineering designs for these four main LEDs Outdoor Lighting models are specific for their functions, each well-suited for their niche applications. We can provide the most efficient performance products for customer's outdoor lighting needs, whether it is for flood light, wall washing, decorative lighting, or street lighting," stated Jeffrey Chen, president of NeoPac Lighting.
Chen said the breakthrough for outdoor LED solution comes through the combination of NeoPac's own ultra-high-power LEDs enabling technology, enhanced brightness output in LEDs package performance, efficient thermal management system, and fresh approach to product design.
He also indicated, "Coming out with these four standard model products line, it is announcing our official entry into the outdoor lighting market. We start as the pioneer in LED general lighting, and now we are the pace-setter for the outdoor LED lighting devices. NeoPac is committed to maintain our strong leadership position in this field."
All four models come with tested IP rating of 65 for dust and water protection. They are built tough with durable metal casing and sealed optic housing to stand up to all kinds of weather conditions.
The lighting devices are constructed with adjustable secondary optics, for changing to narrow beam, wide beam, or asymmetrical angles for the different outdoor illuminating applications.
The 10 Watts Outdoor Bulb is the starter unit in the Outdoor Lighting Device series, which has one NeoPac Emitter set in a modified flashlight design. It is 275 mm in body length, and 96 mm in diameter for the emitter optic lens.
It comes in 10 Watts for pc-white general illumination for outdoors, and one single 6 Watts unit for RGB mixing white (Bulb Pro).
The 40 Watts Outdoor Bar is a basic rectangular floodlight unit, at 133mm by 242 mm by 412 mm. It has 4 NeoPac Emitters at 10 Watts each for pc-white, and 24 Watts total (6 W x 4) for RGB mixing white (Bar Pro).
The 60 Watts Outdoor Line is a larger outdoor module with six NeoPac Light Emitters. It is longer at 133 mm by 242 mm by 488 mm. For its pc-white illumination is 60 Watts, and 36 Watts total (6 W x 6) for the RGB mixing white (Line Pro).
For the largest of the Outdoor Lighting Device series is the 120 Watts Outdoor Array. It is specifically designed for use as outdoor street light, outfitted with a cluster of 12 NeoPac Emitters in a 3 by 4 array arrangement, at 10 Watts each for pc-white illumination.
For street lighting needs of RGB mixing white (Array Pro), it is at 72 Watts total (6 W x 12). Its dimensions are at 120 mm by 445 mm by 715 mm.
Each of these four LEDs Lighting Devices are configured with system-in-package micro heat pipes, NeoPac Light Engines, and aluminum heat fins for top-rated high-efficiency thermal management and power dissipation.
This way all four patented models are designed to maintain the LEDs junction temperature (Tj) uniformly at under 60℃, while the RGB mixing lighting devices are packaged to control Tj at under 50℃.
"Keeping the junction temperature at under 60℃ can slow down the spectral degradation and decay loss rate. It is a key factor to keep the LEDs functioning for long life span and maintaining brightness output stability," said NeoPac president Jeffrey Chen.
He stated, "This is the biggest challenge for the structural design of ultra-high power outdoor LED devices. It is necessary to find a workable thermal solution with the required heat management, power dissipation, and high lumen output as required for outdoor lighting applications" according to Chen.
Given the heighten interests in the NeoPac LEDs Outdoors Lighting Devices, the complete range series will be demonstrated later this month at the 2006 China (Guzhen) International Lighting Fair, with the show taking place from Oct. 18-23.
Also they are to be exhibited at the 5th China International Lighting and Light Furnishings Exhibition in Shanghai from Dec. 7-9.
Contact
Clement Yang NeoPac Lighting, Ltd. Tel: +886-3-558-3620 ext. 220 Fax: +886-3-558-6909
E-mail:clement@neopac-lighting.com
Web Site:http://www.neopac-lighting.com