Element Labs reaches high note with Cirrus on Dixie Chicks tour
Dec 19th, 2006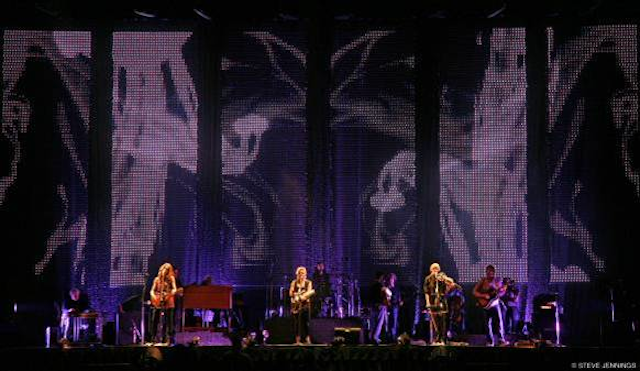 Date Announced: 19 Dec 2006
AUSTIN, Texas -- Element Labs, Inc., an industry leader in LED video technology announced that Dixie Chicks lighting and production designer Alex Reardon is using Element Labs Cirrus™ screens as the stage backdrop for the group's current tour. Nocturne Productions, Inc., supplier of video production services at the arena and stadium level, is providing and managing the screens.
"I am always coming up with bizarre ideas and knew that if I turned to EL for this project, I would get a very rapid response as to whether or not my vision was achievable," said Reardon. EL has the brainpower and resources to create innovative designs and the willingness to produce customized products," he continued.
"With many manufacturers now fabricating low resolution drapes, I wanted something that was brighter and had better color resolution and knew EL would come up with really cool results. All of the products I have seen come out of EL to date, have been really interesting, groundbreaking, and very tourable – they're bulletproof," Reardon concluded.
Element Labs developed a large-scale LED video display that is based on a soft, flexible vinyl curtain called Cirrus. The standard configuration consists of two vinyl layers and is lightly frosted with die cut openings that offers a unique appearance. Any number of curtains can be seamlessly integrated into a larger display. Modular, lightweight and portable, Cirrus offers the flexibility to conform to a wide variety of applications. The pixels can be removed and installed into new curtains as required, preserving the main investment while allowing the screen to be completely updated with a new look.
The Dixie Chicks' stage backdrop consists of six Cirrus screens, each measuring 8 feet wide by 24 feet high, with a 75mm pixel pitch and die cut openings, giving way to high transparency. The screens have different functions throughout the performance. Depending on the song, the screens will play video, be lit in such a way that they appear metallic, or they will run I-MAG through media servers and then out to the screens.
"One of the reasons we chose vinyl was so that we would be able to light the Cirrus screens from the back, having them catch all of the little cut outs that give them a sort of metallic sheen and reflectivity which looks absolutely great," said Reardon.
About Element Labs:
Element Labs, Inc., headquartered in Austin, TX with offices in Germany and the UK, is a global leader in design, manufacturing and support of cutting-edge LED video technology to the entertainment, architectural, and signage industries. Their award-winning products and customized solutions give designers the freedom to innovate and realize their creative visions.
Contact
Element Labs
E-mail:info@elementlabs.com
Web Site:http://www.elementlabs.com