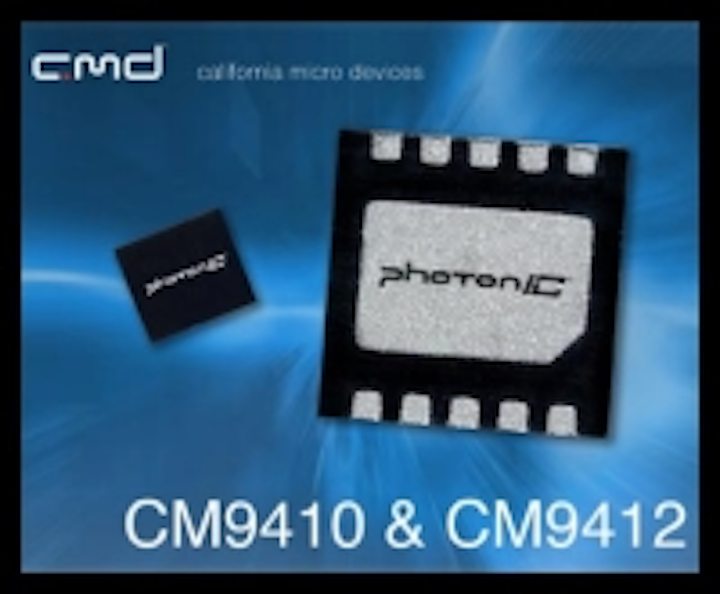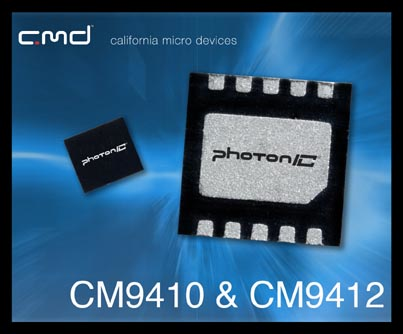 Date Announced: 12 Dec 2006
California Micro Devices Launches Industry's Smallest Flash
LED Driver for Mobile Handsets
PhotonIC® CM9410 and CM9412 Offer Highly Efficient and High Performance
Drive Capabilities in Tiny Footprint
MILPITAS, Calif., -- Dec. 12, 2006 -- California Micro Devices (NASDAQ: CAMD) today unveiled a new family of PhotonIC® white LED drivers capable of supporting a wide range of high current flash LEDs in today's most advanced handsets. California Micro Devices' CM9410 and CM9412 feature current drive capabilities of up to 1A, high efficiency and multiple operating modes that can be programmed via a digital single wire control interface. The CM9410 is offered in a 0.4mm pitch chip scale package (CSP), which results in a solution form factor that is five times smaller than equivalent solutions. The CM9412 is housed in a 3mm x 3mm TDFN (Thin DFN) package.
Evolving Application Requirements
As camera resolution increases and picture quality becomes a key criterion for camera phone users, powerful camera flash capabilities are needed to take full advantage of high resolution imagers. In addition, wireless handset designers are facing major challenges in terms of power consumption, battery life, space constraints and cost. Therefore, significant emphasis needs to be put on optimizing the efficiency and footprint of the LED subsystem, specifically for camera flash circuitry.
Key Features
The CM9410 and CM9412 support a voltage input range of 3.0V to 5.5V and feature a typical efficiency of 85 percent. They offer various modes of operation including shutdown, torch and two flash modes that can be selected through a user friendly single wire interface. Preview and flash currents can be programmed independently via external resistors. Timeout setting is also programmable for flash modes. Both products offer a drive capability of up to 1A to support a powerful flash with high resolution camera sensors. The typical switching frequency is 1MHz and typical shutdown current is less than 0.3uA. These products also feature overcurrent and overvoltage protection as well as undervoltage lockout and a soft start to limit inrush current.
Application
Both products address the requirement for high drive capability for camera flash applications. The following two figures show application diagrams for the CM9410 and CM9412 respectively. Four modes selectable via SWC (Single Wire Interface) are available, including shutdown, torch (preview), Flash1 and Flash2.
Pricing and Availability
Evaluation boards and chip samples of the CM9410 and CM9412 are available now. Chip pricing starts at $1.00 in 1,000 unit quantities. Volume production is scheduled for Q1 2007.
About California Micro Devices Corporation
California Micro Devices Corporation is a leading supplier of application specific analog and mixed signal semiconductor products for the mobile handset, digital consumer electronics and personal computer markets. Key products include Application Specific Integrated Passive™ protection devices for mobile handsets, digital consumer electronics products such as digital TVs and personal computers as well as analog and mixed signal ICs for mobile handset displays. Detailed corporate and product information may be accessed at www.cmd.com.
PhotonIC® is a registered trademark of California Micro Devices Corporation. Application Specific Integrated Passive™ and FlexBoost™ are trademarks of California Micro Devices. All other trademarks are property of their respective owners.
Contact
richardh@cmd.com 408 934-3108
E-mail:richardh@cmd.com
Web Site:http://www.cmd.com