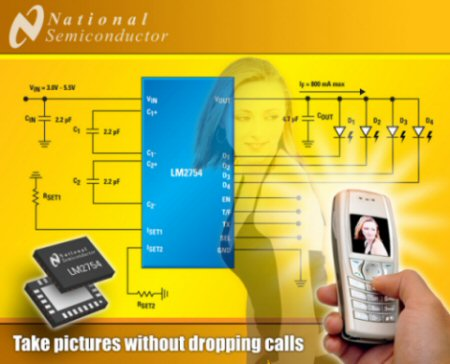 Date Announced: 02 Nov 2006
High Power LED Driver is Optimized for Driving Single- and Multiple-Die Flash LED Technologies in Handheld Applications
SANTA CLARA, Calif. – National Semiconductor Corporation (NYSE:NSM), the worldwide leader in power management technology, today introduced the world's smallest fully integrated flash light-emitting diode (LED) driver. The LM2754, featuring low input noise, adjustable output power control and automatic LED shutdown, delivers up to an 800 mA load in handheld applications.
Many of today's cellular phones feature built-in digital cameras capable of both high-resolution still and video images. Gains in camera technologies have created the need for a high-power white-light source for camera use indoors or in dim ambient light. White LEDs, already popular for backlighting color displays, have emerged as the flash light source in camera phones.
National's LM2754 charge-pump-based, high current, flash LED driver boasts a unique circuit design that enables several exclusive system-level features, such as reduced noise spikes on the input and adjustable output power control to prevent battery drain. The LM2754 also features automatic LED shutdown to avoid excessive heat from the LED if it stays on longer than it should. In addition, National's LM2754 can effectively drive one, two, three or four LEDs at the same time. This makes the LM2754 well-suited for both multiple- and single-die flash LED technologies in cell phone cameras.
National's LM2754 will be shown in National's booth in hall A4, stand #506 at the Electronica trade show in Munich, Germany, from November 14-17.
Technical Features of National's LM2754 Flash LED Driver
National's LM2754 drives up to an 800 mA load with an input voltage as low as 3.0V. A unique circuit design enables several exclusive technical features.
National's LM2754 reduces noise spikes on the input battery, a common problem when pulling high flash currents from the battery. To drive a high output current in a cell phone design for example, switched capacitor boosts must pull an even higher current from a portable device's battery. This causes large current spikes at the battery terminals that interfere with sensitive RF and analog circuitry also supplied by the battery.
In typical high-power boost converters, the input current and associated noise levels can cause the mobile device to be knocked off of the network, resulting in a dropped call. National's LM2754 features unique circuitry that draws current from the battery using a graduated and controlled regime, resulting in significantly lower peak current levels on the input line.
The unique circuit design also enables National's LM2754 to "share" the battery with the RF power amplifier (PA). Rather than pulling high current from the battery in parallel during transmission power bursts from the power amplifier, the LM2754's TX pin allows the device to reduce the output power and therefore current pull from the battery. This unique feature reduces dropped calls due to two high-power loads operating at the same time.
A third unique feature protects the handheld mobile device from overheating due to the flash LED staying on too long. If the flash LED driver stays on after the picture is taken, the LED power consumption causes excess heat. National's LM2754 prevents excessive heating by automatically shutting down the LED after a time-out period.
Available in a very small, low profile 24-pin LLP® package, the LM2754 provides a total solution size of less than 28 mm squared and can also drive flash LEDS made up of one, two three, or four smaller white LEDs. Competitive devices drive just one large flash LED, which provides less flexibility to the mobile device designer in component selection.
For more information on the LM2754 or to order samples, visit http://www.national.com/pf/LM/LM2754.html.
Availability and Pricing
The LM2754 is available now and is priced at $2.00 each in 1,000-unit quantities.
About National's Power Management Products
National Semiconductor is the number one supplier of voltage regulator ICs with 14 percent market share, according to iSuppli's 2005 Semiconductor Market Share survey. National's innovative power management products include best-in-class linear regulators; power monitoring, control and reference ICs; and switching converters, such as high-voltage ICs for DC-DC conversion, switched capacitor converters, lighting management ICs and inductive switching converters. National also offers online tools that enable power designers to select the best power management chips for their applications. National's Webench® design tool allows designers to choose a product, create and analyze a design, and then build custom prototypes that can be delivered within 24 hours. More information about National's power management products is available at http://power.national.com.
Contact
Reader Information Design Support Group National Semiconductor (800) 272-9959
E-mail:info@national.com
Web Site:http://www.national.com