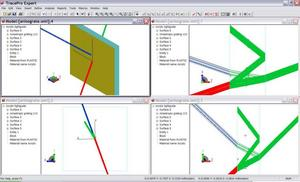 Date Announced: 12 Jan 2006
Lambda Research Corporation, developer of optical software TracePro® and OSLO®, announces the latest release of its illumination design software, TracePro.
TracePro now provides the functionality to handle anisotropic grating structures. When maximizing or minimizing grating efficiencies and dispersion, an optical designer is now able to simulate gratings' energy efficiencies at various azimuth angles. This allows the designer to accurately determine the flux levels for each order at each incident angle of the light striking the grating. TracePro's ability to simulate and analyze complicated optical grating structures (commonly used in spectroscopy, medical devices, and lithography) is greatly enhanced.
Additionally, TracePro's RepTile™ properties benefit from a large number of enhancements including the addition of new diagnostics insuring better geometry, placement and on-screen display. The absolute value function was also added to all evaluator controls and parameterized RepTile input definitions.
Other improvements include increased capacity in the macro interpreter to handle larger and more complete macro files, and enhancements to the following features: importance sampling, surface and material properties, design analysis outputs and plots, optical design translators, and measurement tool outputs.
The new TracePro release includes a total of 67 additions and improvements, all of which are listed in the TracePro 3.3.5 Revision history list available for download at
http://www.lambdares.com/pub/tracepro/TraceProRevisionHistory.pdf
. Current TracePro customers will find the TracePro 3.3.5 update installer available for download on Lambda Research's web site at
http://www.lambdares.com/techsupport/traceproupdate.phtml
.
Contact
Barbara Calt Sales Manager Eastern North America, Central and South America, Europe, and Israel, Pam Ligon Sales Manager Western North America, the Pac-Rim, and Australia.
E-mail:sales@lambdares.com
Web Site:http://www.lambdares.com