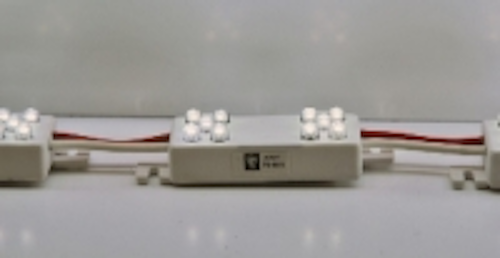 Date Announced: 30 Aug 2006
A proprietary new channel letter illumination system from CAO Group uses a pixel arrangement of customized LED lamps to create high intensity and uniform light beams for a variety of channel letter illuminations.
Called LuxemBright™, the new system provides a low voltage alternative to traditional neon and fluorescent lighting, and allows sign builders to achieve superior quality at lower cost.
Based on a 10 LED cluster design per module, the new system provides long hours of operation with low power consumption, low maintenance, easy installation, high reliability, water resistance, and optimum heat management. It offers uniform color and coverage, with white, red, yellow, green and blue colors available.
The LuxemBright™'s primary characteristic is the10 LEDs per module (5 LEDs per pixel, 2 pixels per module). The standard version accommodates 3 modules per foot which is ideal for large channel letters, while the economy series accommodates 2 modules per foot, making it appropriate for small channel letters.
The modules are easy to install with double-sided tape on back and screw holders on the side of the modules, and they can be mounted on both back and side of channel letters.
The side mounting feature of the LuxemBright™ enables a channel letter depth as thin as 2 inches and can illuminate letters with a stroke of up to 18 inches wide. The combination of these mounting properties with a high intensity, uniform beam lets the sign builder use fewer linear feet per channel letter, reducing both the cost for parts and the installation time compared to other options.
CAO also offers compatible power supplies, connectors and installation tools. The entire LuxemBright™ product line, including accessories, is UL listed. Warranty varies with color, but ranges from 24 months to 60 months
About CAO Group, Inc.
CAO Group, Inc., under the direction of owner, president and CEO Dr. Densen Cao, PhD, offers design, integration and manufacturing of medical, dental, and forensic devices, optoelectronic components, signage, and lighting products. Corporate headquarters, R & D and medical/dental manufacturing facilities, which are ISO 13485 certified, are in West Jordan (Salt Lake City) UT. The company also owns low cost medical and optoelectronic/electronic manufacturing facilities in China, which are ISO 9001 and TS 16949 certified.
Contact
Ron Randall, Director, Optoelectronics Division Tel. +1 877-877-9778
E-mail:ron.randall@caogroup.com
Web Site:http://www.caogroup.com