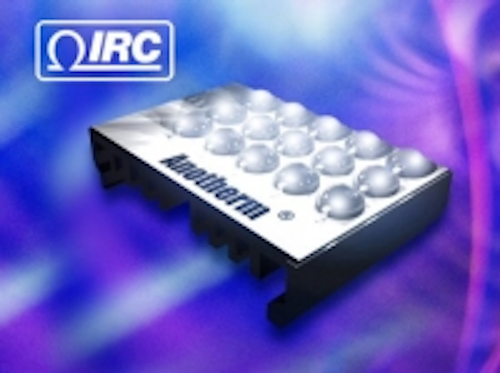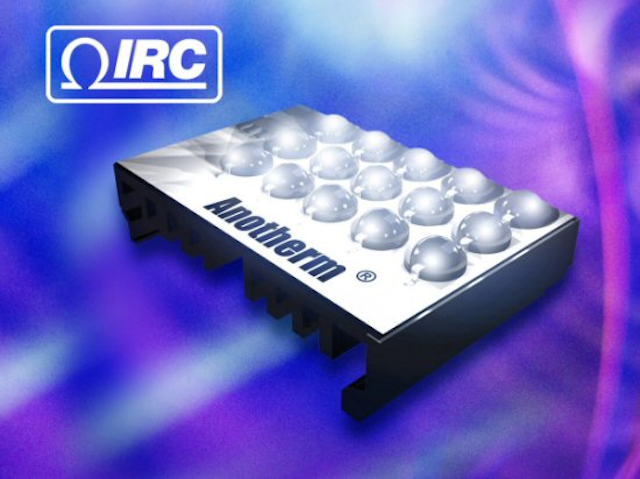 Date Announced: 08 Aug 2006
Anotherm™ substrates allow up to three circuit layers to be processed on a single board
IRC DEVELOPS POPULATED LED ASSEMBLIES ON ANOTHERM™ TECHNOLOGY
CORPUS CHRISTI, TX — Providing lighting system design engineers with a complete solution for their illumination and display applications, TT electronics IRC Advanced Film Division now offers populated LED assemblies.
The assemblies are constructed using IRC's Anotherm technology, a thermally-conductive aluminum alloy substrate insulated by a thermally conductive, chemically grown, anodized dielectric layer, with solderable screen printed conductors applied to the anodized layer.
The substrate material enables design engineers to mount visible LEDs and other components directly to it, thus eliminating the need for attached heatsinks, mounting hardware and the associated assembly costs.
"Our Anotherm substrates provide the effective thermal management that is critical to efficient LED operation and extended LED life," said Tom Morris, applications engineering manager for IRC's Advanced Film Division. "Our capability of providing populated LED assemblies on Anotherm substrates provides our customers with a turnkey solution for developing new LED lighting products."
The Anotherm substrate technology is being specified for a variety of high-brightness LED display applications, including gaming and vending machines, outdoor signage and displays, emergency vehicle lighting, and architectural and general lighting.
IRC will develop prototypes of the populated LED assemblies in about 6 weeks, Morris continued. The devices can be developed with up to 3 layers of circuit on a single Anotherm board.
The Anotherm substrates feature an insulation system consisting of a thin layer of anodized aluminum oxide that is chemically grown on the aluminum core, producing a dielectric layer approximately 0.0014 inches thick (0.035nm), which provides an inorganic insulation that is not affected by temperature or chemical exposure.
This rugged construction gives Anotherm technology the ability to operate in extreme temperatures – up to 175ºC. Maximum operating voltage is 250VAC, and thermal impedance is characterized at 0.02ºC/W.
IRC's Anotherm substrates are available RoHS compliant. Pricing and lead times vary for the custom populated LED assemblies.
For datasheets or more information on IRC's Anotherm technology and populated LED assemblies, please access the Web site at www.irctt.com/anotherm.
IRC Inc. is a leading international manufacturer of advanced film, metal glaze and wirewound resistive products with facilities in Corpus Christi, Texas, Boone, N.C., Smithfield, N.C., and Barbados. IRC is part of TT electronics plc, a global electronics company manufacturing a broad range of advanced electronic components, assemblies and sensor modules for the automotive, telecommunications, computer and aerospace markets.
Contact
TT electronics IRC Advanced Film Division Sales & Marketing Department Tel. +1 361-992-7900
E-mail:afdsales@irctt.com
Web Site:http://www.irctt.com/anotherm