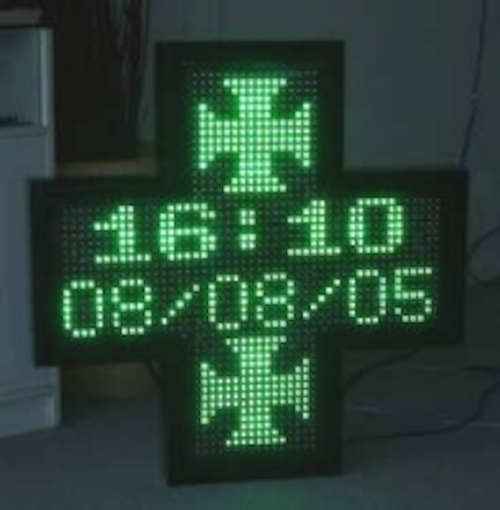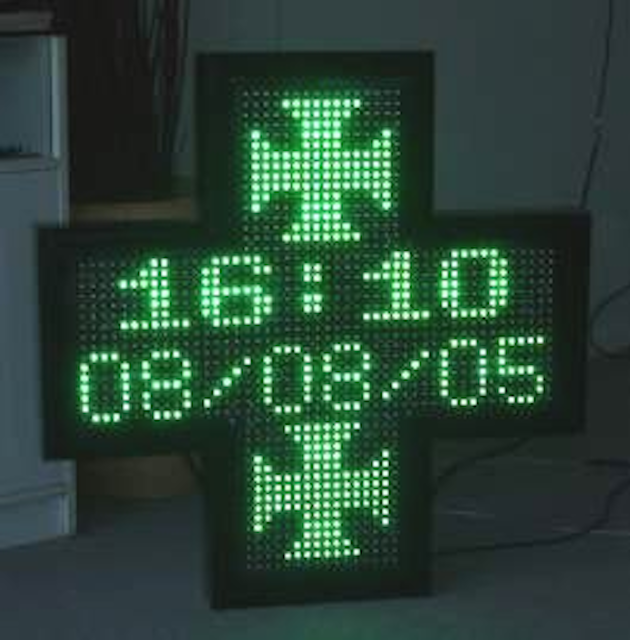 Date Announced: 30 Mar 2006
The green pharmacy cross symbol is a very effective display for the pharmacy, chemist and drugstores, and is instantly recognisable.
This new version uses high brightness green LEDs, and is much brighter than traditional backlit or neon signs. It is visible even during the day in direct sunlight.
It can display any text or graphic information that you want e.g. opening hours, new products, time and temp or any text message of your choice, and also has fantastic animated visual effects to catch the attention of potential customers.
Features:
- Suitable for hospital, pharmacy, chemist shop, medical centre, healthcare clinic etc.
- Can display the temperature, time and free text messages.
- Program via keyboard or serial data cable from PC.
- Can edit text, time, temperature, animations and graphics.
- Text can be displayed in centre of cross in 1 or 2 lines.
- Built in animations.
- Display messages using many special effects.
- Scheduling option allows messages to appear at predetermined times, days or dates.
- Single or Double Sided.
- Fixing and mounting system provided.
- Optional wireless remote control with 5m operating distance.
- Optional light sensor for automatic brightness control.
Contact
Grahame Lane Managing Director Salient Pty. Ltd. Unit 13, Harcourt Estate 809-821 Botany Road Rosebery 2018 New South Wales Australia Postal Address: P.O. Box 846 Rosebery 1445 New South Wales Australia Phone: +61 2 9313 5111 Fax: +61 2 9313 5855
E-mail:sales.info@salient.com.au
Web Site:http://www.salient.com.au