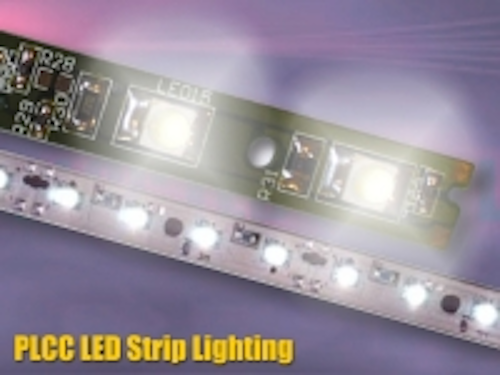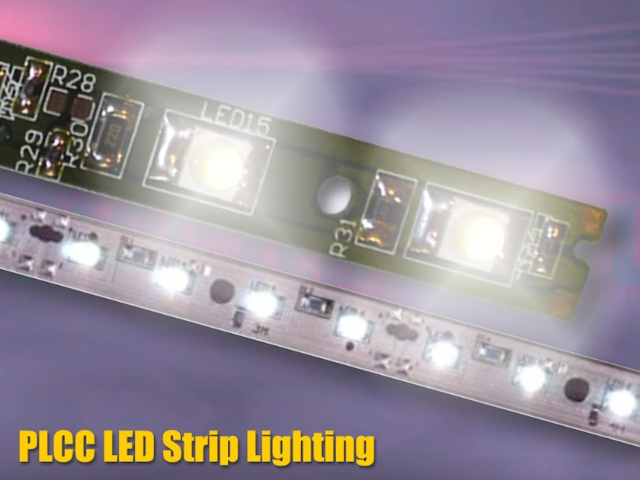 Date Announced: 22 Mar 2006
The new ABPL series is available in a wide range of colors from 470nm blue to 625nm red and white and is capable of output intensities in excess of 40 lumens (12,800 mcd)
Chino, Ca. March 21, 2006 – American Bright Optoelectronics Corporation introduced the ABPL series of LED strip lighting products targeted at the decorative and general lighting industries, channel letter illumination and large format backlighting. The innovative series features American Bright's extremely efficient SuperNova™ PLCC LEDs that are entirely RoHS compliant. Each ABPL strip is 17 5/8" long [449mm] under a half-inch wide at 7/16th (12mm) allowing for installations in extremely tight quarters where incandescent, florescent and neon technologies will not fit.
The ABPL series was created to address the power and installation challenges modern lighting designers are forced to consider when evaluating a solid-state lighting solution while still retaining an industry leading degree of design flexibility. The ABPL series is available in two viewing angles 40-degrees and 120-degrees allowing for both focused intense illumination or softer ambient patterns. The series come standard with UL listed 20awg, 4.3" [110mm] flying leads for simple trim to length field installations and is available with a wide range of industry standard interconnects for specific applications.
The ABPL series is a low-voltage, low-power system, 10-12VDC and draws from 3.2-10.6 watts per light strip depending upon color and number of LEDs selected. Aside from the energy cost savings in excess of 80%, the ABPL series also reduces routine maintenance costs by featuring a typical operating life expectancy in excess of 25,000 hours (over 6 years with a 50% duty cycle) compared to a standard incandescent bulb's 2-5000 hour service life. This feature makes this new product attractive for architectural installations, cove lighting, path and marker lighting as well as installations in difficult to access areas.
"The ABPL series is a significant step forward for solid-state lighting." George Lee, President of American Bright said. "As more standard products become available, and the industry becomes more educated about the benefits of products like the ABPL, I would expect to see an acceleration in pace that LEDs are overtaking the older incandescent, florescent and neon technologies."
The ABPL series is available from stock and is priced from $7.00 each in production quantities. Custom configurations are available, please contact the factory for further information toll free at 1-888-533-0800, or visit American Bright online at www.americanbrightled.com.
About American Bright Optoelectronics
American Bright Optoelectronics is a subsidiary of Taiwan-based Bright LED Electronics Corporation, a recognized leader in the research, engineering, manufacturing and marketing of LED components to major markets worldwide. Formed as the marketing organization for the Americas and Canada in 1995, American Bright has enjoyed sustained growth while introducing several innovations to a wide variety of markets.
Conscious of their global responsibility to the environment, the majority of products are produced with lead-free, RoHS compliant materials and processes. Bright LED Electronics and American Bright Optoelectronics are ISO9001:2000; ISO 14000: 2004 and TS16949 certified.
Contact
American Bright Optoelectronics Corporation 13815-C Magnolia Ave. Chino, CA 91710. Tel: (909) 628-5050, Fax: (909) 628-5006. Toll Free (888) 533-0800.
E-mail:stevenc@americanbrightled.com
Web Site:http://www.americanbrightled.com