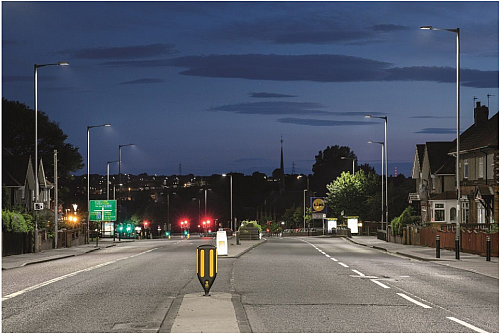 More than 20,000 sodium street lamps have been replaced across Sunderland with Thorn Lighting's R2L2 lanterns, in the first phase of a £6 million upgrade to energy saving LED's by Sunderland City Council. The project includes residential estates, distributor roads and major roundabouts and the new lighting will address many of the previous issues of poor lighting resulting from the old style SON luminaires, whilst maximising energy savings and reducing maintenance. The council expects to generate savings of approximately £800,000 a year from lower bills and less maintenance.


Sunderland City Council selected the lantern following a strict selection process which included criteria set out by Balfour Beatty. Thorn's R2L2 lanterns had to meet the rigorous key criteria which included improved lighting levels with increased energy efficiency which, in turn would improve whole life costs and the ability to save further energy by dimming in the future, which was crucial. Another key consideration was the use of a well-established, trusted and guaranteed brand.

Thorn's R2L2 lantern was the perfect choice as the fitting comes in three sizes and has extensive optical, lumen and light distribution choices for all road applications up to ME1. The 11 types of light distribution offered by the lantern's optics deliver the precise light placement and, perhaps more importantly, no wasted light. Energy savings can also be maximised with a wide range of intelligent lighting control solutions from stand-alone dimming to full remote control via a central monitoring system. The R2L2 fitting also offers a universal and integrated spigot that provides flexibility through top and side entry for any maintenance and tilt adjustment. The lanterns for the Sunderland installation were ordered with pre-set dimming to give an additional 25% saving.

Over 7,500 Thorn CiviTEQ lanterns have also been installed in Phase 2 of the project. CiviTEQ is a well-proportioned LED road lantern with an unobtrusive style ideal for road refurbishment lighting applications. With 12 precise lighting distributions, the lantern is fitted with R-PEC® optic to provide safe and efficient illumination. The fitting is compact and lightweight for easy handling and installation with low windage. Available in 2 sizes, the fitting also has a comprehensive range of controls making it suitable for a wide range of applications.

Councillor Michael Mordey, the city council's portfolio holder for City Services, said: "Everyone wants to save money on their energy bills and, given the significant savings we have to make because of continued reductions in Government funding, the City Council is no different. As well as financial savings, the new lights can bring other benefits to highway users.
"The 'white light' makes it easier for pedestrians, cyclists and motorists to see and this helps in reducing night time road traffic accidents and the fear of crime.
The first installation phase is seeing the conversion of almost half of the city's street lighting stock".

Contact:
Tel: 01388 420042