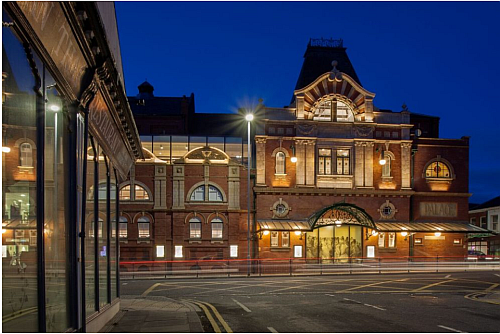 acdc Lighting's Galli and Blade Micro fittings have been used to reinvigorate the façade of Darlington Hippodrome, formerly Darlington Civic Theatre during its recent refurbishment, creating a lighting scheme to enhance the night time image of the theatre and its surroundings. The brief was to enhance the character of the 109 year old theatre's façade whilst creating a memorable identity for the building.

The theatre was closed for more than a year for the £11.7m restoration to take place. The project included an increase in seating capacity, improved backstage facilities, the introduction of a new restaurant area and a new façade with a grand entrance. The neighbouring former fire station has also been converted into a children's theatre. It was an important part of the renovation to preserve the theatre's heritage by restoring much of its Edwardian features, with a heritage gallery offering a permanent record of the theatre's colourful history.

With over 20 metres of façade, the light fittings needed to be high quality, easily maintained, compact and discreet to allow them to blend seamlessly into the heritage facade.The lighting design uses acdc's Galli compact, wallwash luminaires with a focused beam to deliver crisp effects. Galli has a range of optics available to suit all applications and is available in flush or bezel mounted, whilst all LEDs are dual binned within a 2 step MacAdam ellipse to ensure colour consistency. IP68 rated Galli can be installed in the most challenging of exterior environments and can be fully submersed in water.

Blade Micro is a powerful, wall grazing linear LED luminaire that provides an even wallwash of up to 10 metres, delivering up to 1500LM and 4100 LM per metre. It has a neutral design aesthetic that allows perfect integration into the surrounding architecture. Innovative design, engineering and thermal management combined with efficient LEDs (>90 Lm/W), gives Blade a long life in excess of 50,000 hours and the IP67 rating assures durability in harsh environments. Blade Micro can be installed end to end for a continuous wallwash effect, providing an even, continuous and powerful light output with excellent colour rendering.
The lighting has had the desired effect, highlighting the original features of the building and creating a theatre quarter with a 'wow' factor. Now complete, the newly named Hippodrome will become a key destination for the region that will cater for generations of theatre lovers.

Contact:
Tel: 0845 862 6400