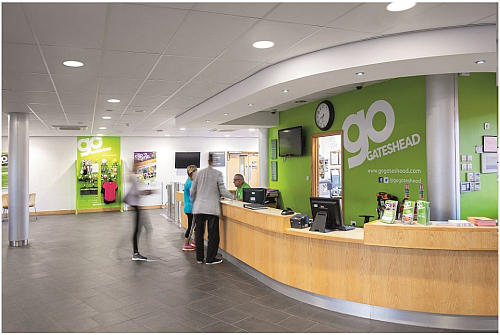 A selection of luminaires from Zumtobel Group companies Thorn Lighting and Zumtobel Lighting have been used to meet the requirements for varying lumen packages and colour rendering indices at Gateshead International Stadium creating an inviting and motivating place to participate in sport and also to visit as a spectator.
Owned and managed by Gateshead Council, Gateshead International Stadium is a multi-purpose, all-seater venue in Gateshead, Tyne and Wear, with a capacity of around 11,800. The main arena is principally used for athletics and five world records have been set at the stadium, whilst the Stadium's sports hall is an inspirational place, capable of transforming itself into an arena for a multitude of activities, hosting a variety of sports including badminton, basketball and netball. The stadium has also been used as a concert venue by numerous musical artists.

Zumtobel's CRAFT high-bay LED luminaire was chosen for the sports hall for its efficiency, compact proportions and powerful performance. Sealed to IP65, CRAFT has a specially developed wide beam optic for uniform, square illumination with no dark areas (UGR 80 (4000 K), Ra > 70 (6500 K) and a transparent PMMA diffuser with additional safety cover. All sports hall luminaires were installed using a bespoke bracket that allowed the old fixing to be reutlised and save further intrusion. The newly lit sports hall is described as a 'theatre of dreams' and a place to create sporting memories that last a lifetime.



Thorn's Omega LED was chosen to provide excellent illumination levels with good uniformity for the gym, using 50 percent less energy when compared to fluorescent fittings. IP44 rated Omega LED has excellent uniformity and provides easy retrofit for traditional luminaires with the use of simple mounting kits. Omega LED can be used with DALI dimming to further increase energy savings. HiPak Pro LED high bay luminaires from Thorn were used for the facilities entrance to reduce energy consumption and increase sustainability whilst providing a well-lit environment. HiPak Pro LED is up to 45% more efficient than 250W/400W alternatives, combining high efficiency (93Llm/W), 50,000-hour lamp life, low maintenance and a robust design. Dedicated individual optics provide precise light control for high level mounting applications, whilst DALI light and movement sensors maximise visual comfort and energy savings.

For the corridors, Thorn's Cetus Recessed LED downlight have provided a direct replacement for the traditional compact fluorescent downlights to provide a uniform appearance and up to 65 percent energy savings. Zumtobel's LITECOM lighting management system is being used to optimise the lighting solution in the main hall with regard to visual comfort and energy efficiency. From control of individual rooms up to several floors or whole buildings, the functions and dimensions of the LITECOM system can be configured to suit the user. It can be controlled via conventional switches and Zumtobel control units, smartphones, tablets or other computers. This includes, among other things, dimming luminaires, saving lighting scenes, and controlling screens, windows and blinds. Other functions, such as daylight-based lighting management, are covered by optional apps, allowing for future changes and additions. If glare protection is also integrated into the LITECOM system via scene call or manual, independent adjustment of the blinds and slat positioning, visual comfort will be enhanced, as there will be no glare even when the sun is low.

The resulting, extremely efficient luminaires achieve maximum energy savings with energy consumption reduced by 25 per cent through the use of luminaires fitted with electronic control gear with a dimming function. Presence detectors and switch-on times that are stored in LITECOM's central building calendar can yield additional potential savings of 20 to 40%. Even manual adjustment of lighting scenes to the respective activity will decrease electricity costs in many cases. Up to 75 % of the energy consumed by lighting can be saved in functional buildings by making optimum use of daylight.

Contact:
Tel: 01388 420042