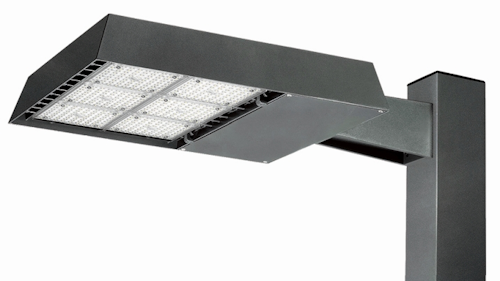 Greenville, SC – The all-new Ratio family of area and flood luminaires from Hubbell Outdoor Lighting matches the classic rectilinear aesthetic with the latest in LED technology to illuminate a wide variety of applications. The new family of luminaires feature two area and five flood sizes with a full spectrum of outputs that allow customers to meet specific application requirements.

Performance

Ratio features a dense optical array which provides reduced pixilation and increased visual comfort without compromising performance. The unique optical design combines visual uniformity with the precise distribution of a TIR optic. This technology enables target efficiency, increases luminaire spacing while simplifying layouts, lowers installation costs and reduces energy consumption, all while improving visual acuity through improved uniformity.

The Ratio area is available in four IES distribution patterns and the Ratio flood is available in three NEMA distribution patterns. Both utilize Micro Strike Optics for optimal photometric performance and five times the luminous surface area for improved visual comfort. The Micro Strike Optics maximize target illumination and uniformity while minimizing backlight. A typical area/site luminaire has 20 to 30 percent backlight. With Micro Strike Optics, this can be decreased to 12 percent.

Flood lumen range is from 1,500 up to 30,000 at 120 to 140 Lumens per Watt.

Area/site lumen range is from 3,000 to 30,000 at 120 to 147 Lumens per Watt.

Longevity

One of the primary advantages of LED technology is the inherent value in the longevity of the luminaire and the advanced design of IP66 rated Ratio incorporates additional measures to ensure long life.

Ratio was developed to shed water through a vented housing that keeps water and debris from building up on its surface. The lens has no external hardware, allowing for even pressure on the gasket to eliminate water intrusion. These examples of design enhancements demonstrate how Ratio has improved ingress protection.

In addition, the entire family of Ratio luminaires features advanced thermal management, simple heat sink and industry-leading surge protection.

Features and Benefits of Ratio family include:

Four area/site mounting options, including knuckle, mast arm, wall mount and universal
Two flood mounting options, knuckle and trunnion
Control options featuring photocontrols, occupancy controls and NX Distributed Intelligence™
Four IES distributions (II, III, IV and VI) and three different beam spreads: 2×2, 4×4 and 6×6
Six standard color/finish options as well as customer colors available
3000K, 4000K, 5000K
70 CRI

Find more information on the Hubbell Lighting family of products that will be exhibited at LIGHTFAIR International (booth #1419 & #1425) at: https://www.hubbell.com/hubbelllightingci/en/lightfair2019.


###

Media Contact

Michael McCullough

Director of PR

Hubbell Lighting

pr@hubbell-ltg.com

About Hubbell Lighting

Hubbell Lighting is elevating the lighting experience. Empowered by lighting solutions that integrate seamlessly into their environment, save energy, provide improved quality of light, deliver return on investment and armed with Hubbell's unflinching support, its customers are able to think differently about how, where, and when they can use light. As one of the largest lighting fixture manufacturers in North America, it features a suite of brands that provide a full range of indoor and outdoor lighting products serving the commercial, industrial, institutional, and residential markets. Learn more at hubbelllighting.com and engage with the company online at LinkedIn, Twitter, Pinterest, Instagram, YouTube and Facebook.
Contact:
Michael McCullough
Director of PR
Hubbell Lighting
pr@hubbell-ltg.com